Muddy Dog Challenge 2022
1 Comment
Wednesday, 2 February 2022 |
D for Dog
The Muddy Dog Challenge is a 2.5K or 5K obstacle course that you can take on with your dog by your side. Whether you are keen to run or would rather walk, you can tackle the course with friends and family, with or without a dog. Just prepare yourself for a day of mud, sweat, and cheers!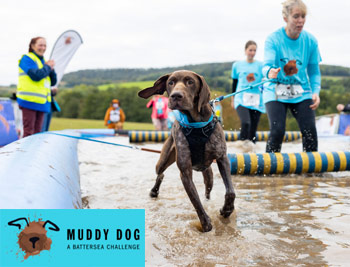 Get muddy for Battersea!
All registered participants will receive a Muddy Dog Challenge t-shirt and dog bandana to take part in, and a medal and rosette for crossing the finish line. Each Muddy Dog Challenge participant is encouraged to raise a target of £100 for Battersea so they can continue helping dogs and cats.
Taking place at nine different areas across the UK during May to October 2022, there is sure to be a Muddy Dog Challenge event near you. New Forest is the newest location added for 2022.
New Forest - Saturday 14th May
Tunbridge Wells - Saturday 21st May
Stansted - Saturday 11th June
Manchester - Sunday 26th June
Cheltenham - Saturday 10th September
Windsor - Saturday 17th and Sunday 18th September
Leeds - Saturday 8th October
Derby - Saturday 15th October
Exeter - Saturday 29th October
The Muddy Dog Challenge is an outdoor obstacle course you can take part in with your dog. The aim of the challenge is simply to have fun while raising money for Battersea and the important work it does for dogs and cats. Participants can enter solo, in a team with the kids, with or without a dog, and there is a distance of 2.5km or 5km to choose from. Participants can decide to run or walk the obstacle course – both options will be as equally fun (and muddy).
Participants are invited to join this day of fun, mud and cheers with their canine companions run by animal rescue charity, Battersea. By taking part and fundraising for Battersea, you will be helping them to provide love and care for the thousands of dogs and cats that come into their care.
To register or find out more, visit https://muddydog.battersea.org.uk/