Muddy Dog Challenge 2017
Battersea Dogs & Cats Home invite all two and four-legged friends to tackle their Muddy Dog Challenge 2017 which includes 2.5km and 5km obstacle runs in Nottingham, Windsor, Essex and Kent.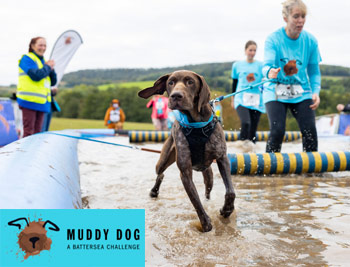 This is the UK's first obstacle course where animal lovers can compete in 2.5km and 5km runs with their dogs. You can enter as a team of humans, as a dog-and-human duo or go solo if your pampered pooch wants to sit out.
You don't need to be able to run a marathon to take part, but you'll need to be fit. Speed through each challenge or trot along the length of the course. No time clock here, just supportive hands and paws along every obstacle.
Nottingham - Wollaton Hall, Nottingham on 6th May 2017
Windsor - Windsor Great Park, Windsor on 20th May 2017
Essex - Stansted Park Estate, Essex on 10th June 2017
Kent - Hever Castle, Kent on 30th September 2017
Friends and family are welcome to cheer you on at the venue and take part in the fun activities, music and competitions on offer at the event village. You and your canine will have a chance to refuel with refreshments, and first aid and veterinary cover will be available on the day.
To register or find out more, visit https://www.battersea.org.uk/support-us/challenges/muddy-dog-challenge-2017