New Dog Social Networking Website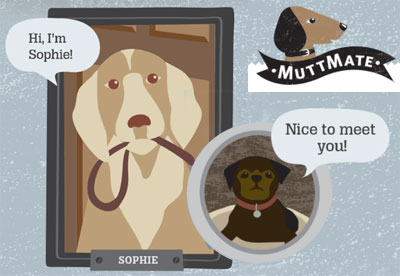 MuttMate is a new social networking website for dog owners. Find new friends, meet up locally and share your barks and photos with other dogs near you.
Founder, Sarah Edwards, felt that online social media did nothing to help dog owners connect with one another within their local area. She wanted to create an online social space which enables dog owners to connect and find each other within their local community.
"I realised that dog owners needed a functional, useful tool enabling permanent connections for the benefit of dogs and owners alike. Most importantly it would have to have geographical relevance and stand out from the social media crowd" says Sarah.
On MuttMate you can share your love of all things canine with dog owners in your area.
Message friends and arrange to meet. Connect with dog owners in your area and get outside for walkies, shared advice and social stuff.
Create a MuttClub and set up fun events. Whatever your canine passion, create a local MuttClub for shared interests and dog events.
Grow your own doggy network within your town and get together with other owners for new friendships, social activities and shared advice.
"Owning a dog is very social and daily walks inevitably involve both dogs and owners stopping to greet each other," explains Sarah. "MuttMate is more than just another social media site. It recognises that relevant, useful interactions amongst dog owners occur offline within the community and offers a practical, online solution to enhance these connections and help grow strong networks of happy dogs and owners."
Register for free
Join the growing community of dog owners and connect within your area. Find new friends for shared walkies, canine capers and the love of all things doggy.