My Dog UK App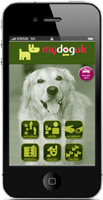 The UK's leading dog app. Free to download.

- Use the my dog uk app with the Petlog Lost Pet Alert to help keep your dog safe
- Find the best dog friendly places and services in the UK
- Get essential information and advice for a happy, healthy dog

The app includes tips for when you are out and about, locate dog friendly cafés, bars, hotels and businesses nearby, daily dog care and first aid advice, share photos with other dog lovers. Lost Pet Alert allows you to send an instant alert in a 30 mile radius the moment you lose your dog, saving precious time.

Be prepared in case your dog goes missing. The my dog uk app and Petlog use microchip, gps and database technology to help you find your lost dog. Download the app and enter your dog's details to ensure you have the best chance of finding your dog if he gets lost. Petlog is the UK's leading database with over 6 million pets registered.

Download the new free app for dog lovers now! Everything you need for your dog wherever you are. Visit www.mydoguk.com

Premium Extras (for a small fee):

talkdog - This fascinating guide teaches you how to interpret your dog's body language, gain insight into his thoughts and emotions and enjoy all the benefits that good communication can bring to your relationship.

fitdog - This series of mini tutorials teach you how to check your dog's weight and body shape and adjust feeding and show how to give your dog physical and mental exercise and have fun at the same time.