National Pet Show 2018
2 Comments
Thursday, 2 August 2018 |
D for Dog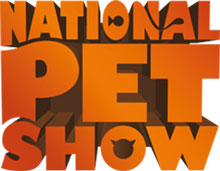 The National Pet Show is back at the NEC Birmingham on 3rd and 4th November 2018.
Now in its fifth year, the National Pet Show is bigger and better than ever. Far from simply showcasing gorgeous dogs and adorable cats, there will be a dizzying array of species, from ponies to pythons, chickens to chinchillas and far more, all under one roof.
Activities at this year's show include:
Animal Rescue Barn will bring together rescue pets with new owners, 'matchmaking' them based on personality, lifestyle and psychology.
Dogs with Jobs will showcase talented professional dogs and their incredible talents.
'All About' Theatres will teach children and adults about some of your favourite animals, from cats to spiders.
Cat Village is a must for feline fans. Experts will show and share advice on a plethora of different breeds, from the common to the exotic.
Kids Zone will be a magnet for children with an exciting new animal handling area where they can meet creatures great and small, learn all about their different needs and how to care for them.
Each day Professor Noel Fitzpatrick, The Supervet, will inspire young visitors at his specially built 'Noel's Ark', Autumnwatch TV presenter Michaela Strachan will host SuperDogs Live, a fantastic live show celebrating the nation's love of dogs and Britain's Got Talent finalist Lucy Heath and little furry superstar Trip Hazard will enthral visitors with their dancing routines. In School 4 Dogs Lucy will also showcase her astounding training skills.
With a focus this year on the rehoming of pets from rescue charities, the show's Animal Rescue Barn aims to 'matchmake' as many animals and new owners as possible during the weekend. Pet experts will help to 'find the perfect pet for you', taking in lifestyle and psychological factors to give them their 'forever home'.
NEC, Birmingham - 3rd and 4th November 2018
Opening times: 9.30am - 5pm
To book your tickets or find out more, visit http://www.thenationalpetshow.com
As well as providing fantastic day out, the National Pet Show promotes responsible pet ownership and animal welfare with charity partners including The Rabbit Welfare Association, Humanimal Trust and many more.
PLEASE NOTE: Visitors are not permitted to bring their pets to the show, however there will be many types of animals to see.