National Pet Show 2019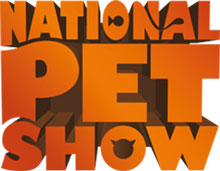 The National Pet Show is back at the NEC Birmingham on 2nd and 3rd November 2019.
Fun for all the family as animal lovers great and small can learn about a myriad of species and breeds as well as getting the chance to stroke them and take selfies with them along the way.
There will also be educational talks from experts plus animal demonstrations.
Brand new this year is 'Family Fur Tunes' which will see family teams led by Autumnwatch presenter Michaela Strachan and TV vet Rory Cowlam invited to 'pet their wits' against each other in a hilarious quickfire challenge that tests their animal knowledge.
On Saturday The SuperVet Professor Noel Fitzpatrick will give a talk especially for children from the incredible Noel's Ark set. Britain's Got Talent's Lucy Heath will show off her training miracles, not just with dogs, but cats this time too. Visitors should keep their eyes peeled for other famous faces - and famous furries - as further names will be announced nearer the date of the show.
The Guinness World Records team will be measuring, testing and recording a jaw-dropping parade of pets in a live show where each will attempt to secure a new record.
The Activity Arena will once again be a huge draw at the show. Stunt animals will amaze the crowds as they demonstrate the kind of training that has won them parts on the stage and screen. In School4Dogs top trainers will strut their stuff with precision trained charges, while Temptation Alley promises to be a true claw-biter of an event: dogs will run the gauntlet of toys, treats and all manner of tempting titbits, with uproarious consequences!
With a focus as always on rehoming unwanted and unloved pets, the show's very own Animal Rescue Barn has partnered with a number of wonderful rescue charities. Together they will introduce as many animals as possible to new owners.
This year's National Pet Show welcomes Dogs with Jobs back again. These remarkable dogs carry out vital jobs for their owners and trainers. And the Canine Catwalk will delight visitors with stunning dogs of all shapes and sizes.
Visitors can get papped over at the Hound Hangout where they can meet some of the UK's most famous pooches from social media. For little ones there is fun at the Kids Zone with animal talks, story sessions, book signings, arts and crafts and more.
Location and opening hours:
Hall 4, The National Exhibition Centre (NEC), Birmingham
Saturday 2nd November - 9:30am to 5:00pm
Sunday 3rd November - 9:30am to 5:00pm
To book your tickets or find out more, visit www.thenationalpetshow.com
Please note that visitors are not permitted to bring their pets to the show, however there will be many types of animals to see.