New Balloon Popping World Record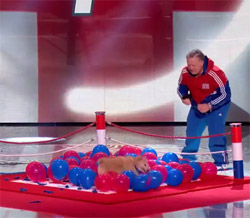 You may remember the video we posted back in 2012 of cheeky little Anastasia, the dog balloon popping record holder. She popped 100 balloons in 44.49 seconds, live on a US talk show.
Last night, 25th May 2015, that record was broken by UK dog Cally, live on Britain's Got Talent. The record breaking attempt was closely watched and confirmed by an official Guinness World Records adjudicator.
The world record for the 'Fastest time to pop 100 balloons by a dog' was achieved by Cally in a new record time of 41.67 seconds.
Congratulations Cally
However, the story doesn't end there.
American dog Anastasia, seen in the video below and the previous balloon popping record holder, had a litter of three puppies, one of which was already in 'balloon popping' training.
Having heard that their record has been broken, word has it that this new US pup on the block is hoping to take the title back to the USA.
Could a poppingly exciting "balloon-off" be on the cards? We hope so