New Research Promotes Fresh Call For Shock Collar Ban
3 Comments
Thursday, 25 July 2013 |
D for Dog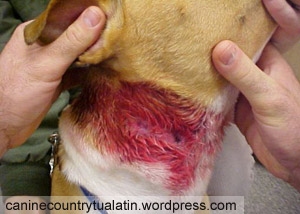 Last month in our blog Shock Collars: Do You Really Want To Hurt Me? I wondered why, in a nation of supposed dog lovers, people were prepared to use devices on their dogs that give an electric shock. Don't they realise the short and long term damage the use of these devices can do to their dogs?

Two new reports commissioned by Defra (the Department for Environment, Food and Rural Affairs) indicate that electric shock collars can indeed cause more problems than they solve.

Following these two reports, the UK Kennel Club is making a fresh call for these controversial devices to be banned, saying:

Defra funded research found that use of electric shock collars on dogs:
can cause negative behavioural and physiological changes in dogs.
was not more effective than positive reinforcement methods, despite this being the main argument for their use.
was open to misuse as owners tended not to read the manual or, in some cases, were not provided with a manual.
In their statement 'Kennel Club urges government to take notice of damning electric shock collar research' the KC state:

"Research funded by the Department of Environment, Food and Rural Affairs (Defra) identified negative behavioural and physiological changes in a significant proportion of dogs which were trained with an electric shock collar in comparison to the non-electric shock collar control group of dogs in the study. It also provided evidence that some owners even failed to consult the accompanying instruction manual before using the device on their dogs.

"Furthermore, a second piece of research, which involved the Electronic Collar Manufacturers Association, also concluded that electric shock collars are not more effective than positive reinforcement methods (such as reward based training) for recall and chasing, which are cited as the two main reasons for the use of electric shock collar training on dogs."

Caroline Kisko, Kennel Club Secretary said:

"There is no denying the results of these two surveys - action needs to be taken now to prevent further harm being done to the UK's dogs.

"The first study provided strong evidence on its own, but the second research project which was clearly biased through its involvement with the Electronic Collar Manufacturers Association, speaks volumes. Even with industry trained professionals, and the project being conducted by an organisation with a clear agenda, it was still found that electric shock collars often had a detrimental effect on dogs and did not prove to be a better alternative than training using positive reinforcement."

Following these damning reports, the Kennel Club expects that Defra and the rest of the devolved administrations will announce a ban on electric shock collars. Previous Defra Ministers have stated that the government will not consider any proposals regarding a ban on electric shock collars until the peer review process has been completed and these research study project reports are made available, which they have now been.

The Kennel Club has written to Ministers in Westminster, Scotland and Northern Ireland (shock collars were made illegal in Wales in 2010) to discuss this important issue in greater detail and hopes to hear from the Ministers regarding their departments' next steps in this matter.

For further information on the Kennel Club's campaign against electric shock collars, visit The Kennel Club's Electric Shock Collar Campaign and Electric Shock Collar Campaign By Region

By Jenny Prevel