New Dog Walking Legislation - Have Your Say
New legislation could mean that over 8.5 million people are at risk of having their dog walks restricted or breaking the law just by walking their dog. This October more green spaces and beaches in England and Wales could introduce rules either banning dogs altogether or restricting access at certain times of day and year.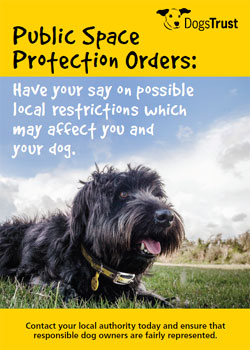 Research from Dogs Trust reveals that nearly 90% of people are unaware that they can influence these laws and make them more dog friendly.
Currently some green spaces do have Dog Control Orders (DCOs) which outline times that dogs are not allowed to use certain areas. But come October 2017 these will become known as Public Space Protection Orders (PSPOs), and now there is confusion about what this could mean for dogs and their owners.
Dogs Trust is urging people to check with their Local Authorities to see if there are any existing or planned PSPOs in their area and flag any concerns they may have, before it's too late.
Many dog owners know the restrictions that PSPOs can introduce, such as limiting when and where they can walk their dog, but many people are unaware that they have the power to influence change.
Lee Paris, Dogs Trust Campaigns Officer, says:
"Dogs Trust is worried that the majority of dog owners could unknowingly be risking fines and potentially huge restrictions on where they can and can't walk their dogs. What's more these changes could be based on just one or two comments from local residents. Unlike Dog Control Orders a Public Space Protection Order can be introduced based on the concerns of a small number of people, but that could have detrimental impact on dogs and their owners'".
With less than 7% of people knowing that there are existing PSPOs in their area, it leaves a worrying number who just don't know what could be due to impact them and their dog. Lee continues:
"Whilst we understand the need to ensure green spaces are enjoyable for all involved, we don't want this to be at the detriment of dogs and their right to enjoy their daily walks. A dog is for life and we don't want owners to be restricted when and how they enjoy the time with their four legged friend. Instead we hope that our PSPO toolkit, containing leaflets, flyers and a draft letter to send to your Local Authority, will ensure any future orders take a dog friendly approach."
PSPOs broken down
PSPOs are being introduced in October 2017, they will replace DCOs
A PSPO can restrict dog walking in public spaces, such as having to keep your dog on the lead or only exercising your dog at certain times of the day or year
Breaching a PSPO can result in a fine
A PSPO can be brought about by a small group of residents complaining or raising concerns about an issue with their Local Authority
Have your say
Here you can find your Public Space Protection Order toolkit for England and Wales, and a Dog Control Order version for Northern Ireland.
Public Space Protection Order toolkit
Included is a template response letter for you to send to your local authority in response to a PSPO/DCO consultation to encourage the local authority to adopt a dog friendly approach when implementing an order.
The kit also includes awareness raising posters and flyers for you to hand out to dog friendly businesses and vet surgeries, plus an image that you can use on your social media profiles to help spread the word online.