New Forest Dog Illness - Warning Signs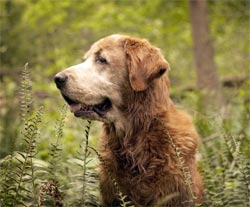 Warning signs are being put up in certain parts of the New Forest, Hampshire, after a mysterious illness continues to kill some of the dogs who have been walked there.
This is not a new issue. The New Forest District Council and The Forestry Commission have been working together with other agencies and specialists since 2012 to try and find the cause of this illness that has led to the death of several dogs.
It is still not clear what is causing the illness and while some dogs have become ill or sadly died other dogs walked in the same area even on the same day have suffered no ill effects. The exact underlying cause remains unknown.
Veterinarian David Walker says the cases show similarities to a disease called Alabama rot, first reported in the United States in the 1980s. However, the cause in those cases was a toxin produced by the E. coli bacteria and neither the toxin or the bacteria was seen to be present in the UK cases.
The Forestry Commission says "The reported cases represent an extremely small proportion of the many hundreds of dogs that are exercised in the New Forest every day and it is likely that this syndrome is extremely rare."
But two recent suspected cases in the last 3 weeks have lead The Forestry Commission to put up warning signs in incident areas to raise awareness amongst dog walkers.
Some things to look out for
The affected dogs all initially developed sores, lesions, open wounds or blisters on their legs and/or face within 3 to 7 days of being walked in the areas and went on to develop acute kidney failure.
What to do
Stay vigilant. If you notice a wound, lesion or blister on your dog's leg or face anywhere from 0 to 7 days after walking in the New Forest area or elsewhere, seek veterinary attention as soon as possible. Do not wait even a day or two to see if the wound heals naturally. Additionally, if your dog becomes quiet or depressed, starts vomiting or has a loss of appetite then seek veterinary advice.
Also, when on woodland walks, keep an eye on your dog at all times and particularly be aware of anything they may pick up, chew or eat.
Please note that this mystery illness is not unique to the New Forest. 17 dogs have died of this illness across Britain in recent months. The majority of the dogs that died in the past year had been walked in the New Forest but there were also cases reported in Surrey, Cornwall, Worcestershire and County Durham.
For updates and more information please visit The Forestry Commission page forestry.gov.uk