New Red Dingo Padded Dog Harness
We are so excited about the new Red Dingo Padded Dog Harness. The first thing I did was get one for our dog Zena in sunny yellow (with matching collar and lead of course, lol). Wow, we love it.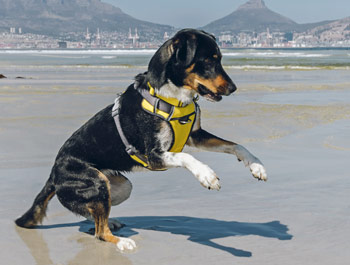 It is a complete re-design from the type of dog harness you would usually expect to see from Red Dingo.
With its supportive padded chest section that continues across the front, it distributes your dog's weight beautifully and comfortably.
Of course, like all Red Dingo products, this harness features the secure and reliable Bucklebone buckles for safe and easy fastening plus super soft, high quality nylon webbing that doesn't chafe.
And let's not forget the reflective trim, which helps your dog stay seen and safe in low light conditions.
But what I love the most is the extra D-ring on the front.
Why two D-rings?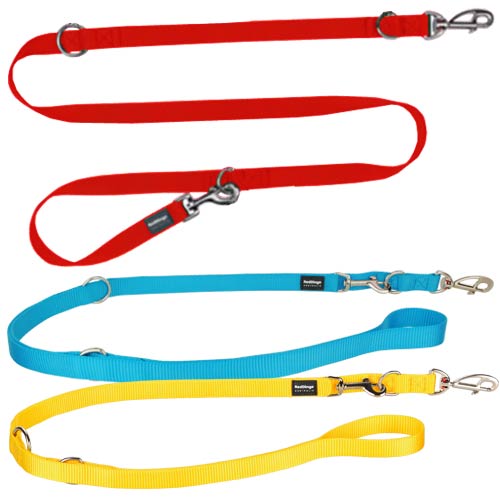 If you have never used one of these double D-ring harnesses before and you have a dog who likes to take you for a walk or career across the pavement, give this a try. You will wonder what you ever did without it.
Read on...
All you need is a dog harness which incorporates a front and back D-ring... just like this one. Then get a double-ended dog lead (often called a training lead or multipurpose lead) and you are on your way to better on-lead control.
Of course, Red Dingo also have this covered. Please see the Double-Ended Multipurpose Dog Lead.
Available in colours to match the padded harness, these leads are not just for training. As the name suggests, multipurose leads have loads of uses - adjust the length from long to short or use it as a hands-free lead or for dual dog walking. Woof!
OK, back to those double D-rings on the harness...
Simply clip one of the lead trigger hooks to the front D-ring of the harness and the other to the back (top) D-ring. With the lead attached to the front and back of your dog, you now have more control than ever over their forward and sideways movements.
Our Zena loves to make sideways detours towards bin bags and other 'goodies' but now I am able to control her direction and keep her on the straight and narrow with ease and kindness.
The new Red Dingo Padded harness comes in lovely eye-popping colours or a simple classic grey, so everyone is happy.
From £27.25, this is a great harness for active dogs or dogs who just like to stroll round the park.
To purchase or find out more, visit Red Dingo Padded Dog Harness