Oldies Club 2013 Calendars Now Available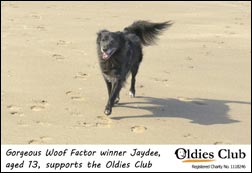 Oldies Club 2013 Desk Calendar is now available to purchase. The calendar is priced at £6.50 inc UK P&P. 100% of the sale price of the calendars will go towards helping more older dogs to find forever homes.

Lovely cover girl Jaydee is the 2012 Woof Factor winner and inside you will find 12 gorgeous rehomed Oldies Club dogs – Patch, Lassie Valentine, Ebony, Megan, Sophie, Arnie, Jetski, Mickey, Ollie, Jake, Lottie & Toffee.

These are wonderful little desk calendars that make fab presents for any dog lover plus each purchase helps older dogs find homes.

The calendars can be found on sale on eBay or you can purchase directly from Oldies Club.





Oldies Club, run solely by volunteers, is a registered charity that helps older dogs aged 7 years plus find forever homes.

"We do not have kennels or a central base as, rather than placing our dogs in kennels, we prefer to care for them in a normal home environment. We therefore use foster homes. Our foster homes are spread around the country and each of them has been carefully checked."

Thank you for supporting Oldies Club.