Feeding Brighter Futures - One Million Meals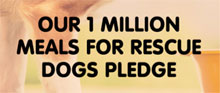 Pedigree are donating one million meals this year to rescue dogs in rehoming centres nationwide.

Donate to Brighter Futures
As well as the One Millions Meals that Pedigree are donating, you can help improve a rescue dog's quality of life by donating money to the project. This money will be gifted to rehoming centres via grants later on this year to help homes with specific projects. In the past grants have been used to help train new staff, set up neutering schemes and breed specific educational programmes, build new kennels, as well as create bespoke behaviour and training facilities and pay for vet fees. Any donation big or small is greatly appreciated by rehoming centres.

How else can you help?
There are many ways that you can help provide for a rehoming centre. As well as the much needed monetary donations, rescue homes are always on the look out for spare towels, bedding, blankets, toys and wool. If you have some time to spare you may even consider lending a hand as a volunteer.

You can use the interactive map to help locate your nearest ADCH approved rehoming centre and start helping out today http://uk.pedigree.com/brighterfutures/how-can-i-help

You can also help by spreading the word through social media.
Pedigree - Our Manifesto
Every dog deserves a loving home. That's what we believe at Pedigree, and it's what inspired us to launch our Adoption Drive in 2008. Over the past 5 years we've been supporting rescue homes to help thousands of abandoned dogs find happy, new homes. We've distributed grants across Britain. Grants that have helped improve conditions for dogs when they need to be cared for most, grants that have built new roofs, bought new equipment and paid for rescue dogs to have individual, focused and loving care.
What we provide beyond money, is nutrition; and because the right nutrition is the first step to a brighter future we've decided to launch a new initiative to extend our involvement. The Pedigree Feeding Project. We are launching with a huge commitment. In 2013 we will donate one million meals to rescue homes nationwide. One million meals to help more abandoned dogs back to being the happy and adored family pets they deserve to be.
http://uk.pedigree.com/brighterfutures/one-million-meals