Paul O'Grady: For The Love Of Dogs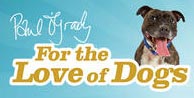 'Paul O'Grady: For The Love Of Dogs' is a brand new seven-part series starting on ITV1 on Mondays from 3rd September 2012 at 8pm.

As the proud owner of three rescue dogs, Louis, Olga and Bullseye, Paul O'Grady truly knows the value of man's best friend. An animal-lover through and through, he leaves his beloved pets at home to embark on the experience of a lifetime, to present the ups and downs of life at Battersea Dogs & Cats Home, one of the UK's best-loved charities for more than 150 years.

There is nowhere quite like Battersea - funny, emotional, tear jerking, uplifting and inspiring in equal measure. Paul meets the dogs who come into the home needing treatment, training and ultimately new homes. Every dog has its own story and each dog needs a new place they can call home.

From assisting vets during surgical procedures to scrubbing the floor, Paul is determined to get his hands dirty like never before. At the on site clinic, he meets a range of cases all needing veterinary attention, from routine dental work to emergency procedures, including pups born by caesarean section.

Battersea have been taking in any dog or cat which comes to their gate for 150 years. The training team must deal with any behavioral problems that come their way, in order to give each animal the best chance of being rehomed. Paul meets head trainer, Ali Taylor, who helps train some of the dogs to perform at Crufts, reminding the public that rescue dogs make just a good a pet as those specially bred. He learns that he will perform at Crufts this year with Frank, a staffie who was found wandering the streets of Kingston, Surrey at just six months old.

Paul also gets involved in rehoming the animals. Last year Battersea rehomed over 5000 dogs and cats. The team are experts at matching pets to owners and will pull out all the stops for even the most difficult of cases. Despite injecting his unique humour into every task he tackles, not every ending can be a happy one. Although he immerses himself into the positive work the charity do, Paul is also forced to confront the heart-breaking reality of stray dogs deserted on the streets of London and those left starving and mistreated.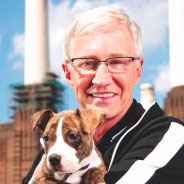 With his own already oversized family at home, Paul is determined not to adopt any more dogs himself and instructs the security team at Battersea to frisk him at the end of each day, for any hidden puppies. Can he make it through the series without extending his own clan? When Paul was asked if he was tempted to adopt any of the dogs he met during the series he replied: "I did. His name is Eddie. On the very last day of filming we were with these puppies again and I'd been told they'd all got homes so I was quite happy. And this little fella came skipping out. And Shaun (the vet) said this is the only one without a home. And that was that. If we do another series, God help me. I'll probably have a Staffie next because I'm Staffie mad. They get a hard time. But you don't get bad dogs, you get bad owners."

Paul continues: "This has been one of the nicest jobs I've ever had. Everybody knows Battersea Dogs & Cats Home, it's one of the jewels in London's crown and it's a joy to be there; I feel so at home. I'm hoping that people will watch this programme and see what a happy, professional environment it is. There is humour, sadness, pathos, genuine concern - it's going to be different to everything else that's on the telly."

Battersea's Chief Executive Claire Horton says: "It was an honour to welcome Paul to Battersea and bring him into our team. He helped with every aspect of our work, from greeting timid dogs as they first arrived, to walking current residents and finding homes for some of our most needy dogs. Battersea is a fantastic charity to be part of and Paul really enjoyed his time with us. We are hoping the series will give the nation an insight into what goes on behind our famous gates."

Although he immerses himself into the positive work the charity does, Paul is also forced to confront the heart-breaking reality of stray dogs cast out on the streets and those left starving and mistreated. "I think a lot of people are going to be amazed when they see the series," Paul says. "All the family can watch it together, and you don't even have to be a dog lover. It's a very happy show, but there are some very sad bits too."

To find out more about Battersea Dogs & Cats Home, their work, the team and their residents visit battersea.org.uk

Vote for Paul O'Grady: For The Love Of Dogs
The National Television Awards is live on ITV1 on 23rd January 2013. Paul O'Grady: For The Love Of Dogs is a nominee in the category 'Factual Entertainment'. To vote, visit nationaltvawards.com