Paws For Progress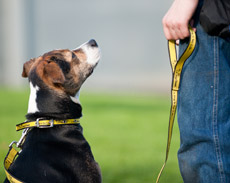 Rescue dogs help young offenders at HM Young Offender Institute Polmont and increase their own chances of getting rehomed.

First prison-based dog training programme in the UK helps prisoners address their behaviour and gain valuable employment skills while Dogs Trust believes that the extra training and socialisation the dogs receive through Paws for Progress could increase the chances of their being rehomed.

The Scottish Prison Service (SPS), Dogs Trust and Rebecca Leonardi, a postgraduate student from the University of Stirling, are collaborating on the first prison-based dog training programme in the UK.

Based at HM Young Offender Institute (HM YOI) Polmont, and aptly known as Paws for Progress, this pioneering programme involves young offenders from Polmont training rescue dogs from the nearby Dogs Trust West Calder rehoming centre.

The aim is to help offenders address their behaviour and develop employment skills in preparation for release. The project was instigated by Rebecca Leonardi, as part of her Psychology PhD at the University of Stirling.

Paws for Progress runs in eight week cycles and each one sees a small group of prisoners take part in three training sessions each week, two of these with rescue dogs. As well as working with the dogs, the participants learn team working and social skills, while some become volunteer assistants and peer mentors for the programme.

Every prisoner is paired with a dog, making them responsible for that dog's development and accountable for the dog's behaviour. They are taught never to use punishment, while positive reinforcement techniques, like rewarding good behaviour, are encouraged. It is hoped that by completing the programme, prisoners will enhance their employability, develop social skills and gain the confidence to be positive about their future prospects.

Engaging participants in learning is central to the project's success as young offenders often have a negative attitude towards education as a result of difficult experiences at school. After completing the course, participants are provided with ongoing support and development.

Ms Leonardi explains: "The young men involved in the programme are going through difficult and challenging periods in their lives. They are aware of how their attitude and behaviour impact upon their allocated dog's progress – they must remain positive and help the dog to trust them - and work very hard to ensure their dog is given the best chance of a happier future. When they see how the dogs change as a result of their hard work, it is very rewarding and they realise that they are capable of changing too."

With the help of HM YOI Polmont and Dogs Trust staff, Rebecca Leonardi runs the Paws for Progress sessions and will evaluate the effectiveness of the programme over the next three years. Paws for Progress was inspired by the success of a similar programme in America (Project POOCH), but it will be some time before the impact at HM YOI Polmont can be fully evaluated. Nonetheless, initial observations are overwhelmingly positive.

Kate Donegan, Governor at HM YOI Polmont, said: "This has been a mutually beneficial project for all involved. The young men at Polmont have enhanced their employability and literacy skills and, as a result of their involvement in Paws for Progress, have even been awarded an SQA certificate. I look forward to reading Ms Leonardi's findings in the future and seeing how this research can be utilised to improve the efficiencies of the prison estate."

Throughout the project the young offenders complete two portfolios: the first covers the dogs' development (and includes a K9 CV) while the second focuses on that of the prisoner. The dogs' portfolios are used by Dogs Trust training and behaviour advisers and shared with potential owners, who make an informed decision as to whether the dog is suitable for them. Students can achieve an SQA, which for many is their first qualification, and the successful rehoming of a dog is an achievement for the trainer.

The dogs involved have been carefully selected by Dogs Trust experts. The charity believes that the training they receive through Paws for Progress could increase the chances of their being rehomed. Susan Tonner, Manager of Dogs Trust West Calder, explains: "We're very excited to be part of this groundbreaking project. The dogs taking part benefit from extra training and socialisation which, in many cases, increases their appeal to potential owners. It's great to tell prisoners that their hard work with a specific dog has helped us to find a new loving home. We're looking forward to lots more success stories."