Paws in the Park 2019
8 Comments
Tuesday, 12 February 2019 |
D for Dog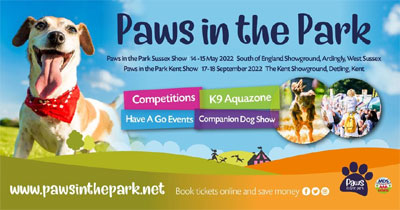 This year, 2019, Paws in the Park brings you spring and autumn shows. The shows will take place in May and September.
Both shows provide endless activities for you and your dog to enjoy.
Spring & Autumn Shows
Two great weekends for your dog in 2019:
18th & 19th May 2019 - South of England Showground, Ardingly, West Sussex
14th & 15th September 2019 - The Kent Showground, Detling, Kent
Open times from 9.30am to 5pm daily. Parking is free, and with shopping and food and drink stands to keep you going, why not come for the whole day.
Dogtastic days out for you and your dog! Paws in the Park are Britain's favourite fun dog shows, with lots of dog games and activities to try including flyball, canine search and rescue, and dog agility. Enjoy a weekend packed with superb arena displays and entertainment, exciting dog activities to try, plus superb shopping for your furry friends. It's a pawfect day out with the kids too!
Arena Attractions
Some of the UK's fastest, most famous and most furry dog displays and doggy entertainment acts, all appearing live in the arena and all included in the entry ticket price.
Have a Go Activities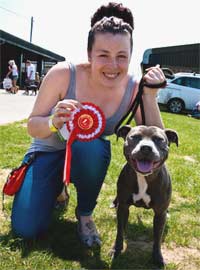 At Paws in the Park, you don't just get to watch dog activities, you can try them for yourself! Try your dog's skill at Search and Rescue, see how far they can jump at Dash N Splash, or if they've got the required need for speed for flyball. Even the tiniest dogs are catered for with the Mini Paws activity centre!
Doggy Competitions
Your pooches can win prizes in a whole range of fun competitions, including agility, cani-cross, and Dash N Splash.
Companion Dog Show
An open to all dog show including cross breed and novelty classes.
Doggy Shopping
Shop for all your dogs needs at the outdoor trade stands.
Tickets
http://www.pawsinthepark.net/buy-tickets/buy-tickets
All dogs welcome - whatever the size, age and ability. It's a fantastic doggy day out.