PDSA Pet Fit Club
PDSA Pet Fit Club has been helping podgy pets for 12 years. During that time they have seen it all - from some of the UK's fattest pets to the weird and wonderful food eaten.
In 2017 obese dogs, cats and rabbits from across the country took part in the six-month diet and exercise programme with the aim of losing weight and enjoying happier, healthier lives.
The formerly podgy pets, and their owners, have been receiving expert advice from PDSA vets and tailored diet programmes to get them back in shape.
So, who has been crowned the winner of Pet Fit Club 2017?
2017 Champ
Alfie the Beagle lost 34% of his bodyweight to be named Pet Fit Club Champ!
His previous owner's busy lifestyle meant they found it difficult to take him on walks and give him the time and attention he needed to be fit and healthy. As a result, Alfie piled on the pounds and found it difficult to get around.
His health and life-expectancy were at serious risk from his excess pounds. But after pounding the streets and cutting back on the excess food he lost 1st 9lb (10.3kg) and wowed PDSA judges. He is now a much healthier 3st 1lb (19.7kg).
Alfie is the second biggest 'loser' in Pet Fit Club's twelve year history!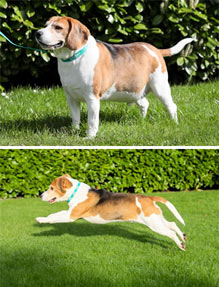 How to check your dog's weight
Checking your pet's shape is a better way to tell if they are carrying extra weight rather than relying on the scales alone. That's because the ideal weight is different for every type and breed - but a healthy shape is the same for all dogs, cats and rabbits.
The video below shows how to check if your pet is a healthy weight.
Is your pet up for the weight loss challenge?
Just like people, pets need to eat the right diet and get enough exercise to stay fit and healthy. But as many of us know, it's not always easy. One-in-three dogs and one-in-four cats in the UK are now estimated to be overweight or obese.
Do you have a porky pet who needs to lose weight? Do you want to give them a healthy future?
To find out more visit https://www.pdsa.org.uk/get-involved/our-campaigns/pet-fit-club where you can find out more and also register for the next PDSA Pet Fit Club.
Why does it matter?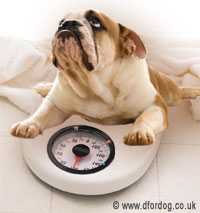 Pet Fit Club has helped many pets slim down to a healthier weight and live longer and happier lives.
PDSA explains why it is so important to maintain the correct weight for your pet:
"Overweight pets are at risk of serious health conditions such as diabetes, heart disease and arthritis, and have a lower life expectancy than healthy pets. Over-feeding treats and providing the incorrect diet are the primary causes of pet obesity."
The impact of expanding waistlines on the health of our nation's pets is a huge concern and worryingly there seems to be a widespread misunderstanding about what a healthy weight should be for pets.
For more information about dog obesity and how to tackle it please see our article Dog Weight and Obesity