PDSA World Cup Sweepstake
PDSA, the UK's leading veterinary charity, have come up with a great fundraising idea where you can hold your very own World Cup 2018 sweepstake. Have fun and raise money for sick and injured pets across the UK.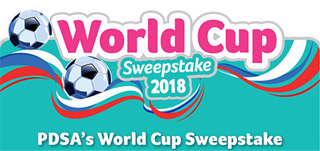 World Cup fever is sweeping the nation! Whether you're a footy fan or not, help the nation's pets with this fun World Cup Sweepstake.
Get the ball rolling with this really easy way to raise funds for PDSA through your friends, family or colleagues.
Simply download and print out the World Cup Sweepstake cutouts and poster (links below) and follow the 'How to play' instructions.
At the end of the tourment, give half of the total prize pot to the person with the winning team, with the other half donated to PDSA. Alternatively, the prize for the winner could be something else entirely and all the money raised can go to PDSA. It's up to you.
To download your free Sweepstake pack
World Cup Sweepstake - cutouts (pdf)
World Cup Sweepstake - poster (pdf)