Personalised Dog Products
It's time to get personal with some fabulous personalised dog products and gift ideas from toy boxes, lead hooks, bowls and treat jars to comfy beds, blankets, towels and bandanas.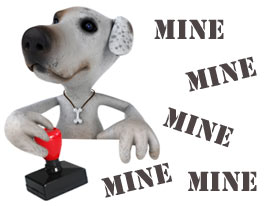 Paws off - it's mine.
Personalised dog gifts make wonderful and unique presents for dogs and dog owners.
From high quality handmade and hand painted ceramic and wooden personalised dog themed goodies to comfy beds and fluffy towels, we have a super range of personalised pooch products for you to choose from, all hand made or hand finished in the UK just for you and your best friend. Woof!
So grab a cuppa and let's take a look at all the wonderful goodies your dog can stamp their name on.
Personalised Dog Toy Box
One of our most popular personalised items are our personalised toy boxes and storage bags. Toys are important doggie property so it is of course best to mark who they belong too, lol. Choose from a traditional wooden toy box with handles or our wonderful canvas toy storage bag.
Personalised Dog Beds and Blankets
Your dog's bed is their own personal domain and nothing says 'mine' like these wonderful personalised dog beds. Or how about a quality fleece personalised dog blanket. Your dog will love them and they make wonderful gifts too.
Personalised Dog Bandanas
One of our best sellers. A personalised bandana says I am special on every day walkies or a celebration, birthday or Gotcha day. We have a choice of printed, glitter or embroidered bandanas in a great choice of colours and styles.
Personalised Dog Bowls
Like toys, food is not for sharing. No wonder our personalised dog bowls are so popular. All our ceramic dog bowls are beautifully hand painted in the UK and professionally kiln fired and glazed to last. Stunning. Some even feature a portrait of your dog as well as their name. Wow! Always popular, our wooden raised dog feeders have a modern or traditional look, depending on your style and are UK hand made.
We have so many designs it would take up pages here so we'll show a few but you can always see the entire range here Personalised Dog Bowls.
Personalised Dog Treat Jars
A personalised treat jar makes such a wonderful gift idea for all good dogs everywhere. These are hard to resist. In quality ceramic, these look fabulous in kitchens old and new. Your dog will be pretty chuffed with it too.
Personalised Dog Towels
No one likes to share a towel and dogs have traditionally had a bit of a raw deal when it comes to bath time luxuries. No longer happy with the tired old threadbare towels that humans have discarded, dogs want their very own fluffy, personalised bath towels.
Personalised Gifts for Dog Lovers
It's not all about the dogs. We also have a fabulous range of personalised home and gift ideas for humans to enjoy. Yay.
Personalised Dog Lover Clothing
Not content with having all their own accessories branded with their name, dogs are personalising their humans too. Just in case there is any confusion at the dog park, kit yourself out in one of our personalised dog themed t-shirts or hoodies. Great for winter and summer dog walks and a great dog lover gift idea too.