Pet Bereavement Support
When your dog passes away it is not like saying goodbye to a member of your family, it is saying goodbye to a member of your family. It can be an awfully lonely time, especially if you are amongst people who don't really understand.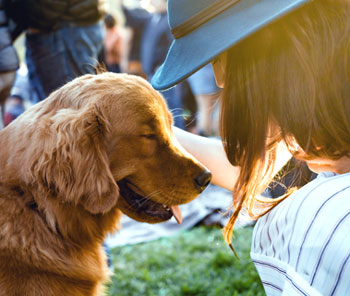 Talking to other dog lovers can definitely help. They will be able to share your grief and understand your feelings of loss.
There are also organisations and websites specialising in pet bereavement support.
Blue Cross Pet Bereavement Support Service

The Blue Cross Pet Bereavement Support Service is a telephone helpline and email service dedicated to offering support and understanding to bereaved pet owners through a national network of trained volunteers, all of whom are ready to help.
The service does not offer a counselling service but is able to offer emotional support and information for pet owners who may be experiencing the loss of a pet. All calls and emails are treated confidentially.
Sometimes it helps to share your feelings with someone who knows from personal experience how distressing the loss of a pet can be, and who will listen confidentially, with compassion and without judgement.
Call their support line on 0800 096 6606 (UK only including Northern Ireland).
Sometimes it is easier to write about how you are feeling rather than talking to someone. The Blue Cross can offer you support through their email support at pbssmail@bluecross.org.uk
The Pet Bereavement Support Service has a range of literature available to download covering their bereavement support services, euthanasia (when is the right time, what can I expect) and children and pet loss.
Animal Samaritans

You can also get in touch with Animal Samaritans who offer a pet bereavement service and will understand exactly what you are going through. Call Chris Bishop on 020 8303 1859.
Other Useful Websites
Pet Loss Grief Support Website
Association for Pet Loss and Bereavement
Urns and Keepsakes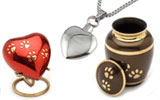 Saying goodbye to your much loved pet is a heartbreaking and distressing time. Our range of pet urns, ashes keepsakes and cremation jewellery have been designed to ensure your dog has a beautiful resting place.
By Jenny Prevel
© D for Dog www.dfordog.co.uk
This article belongs strictly to D for Dog and we do not authorise the copying of all or any part of it.