Pet Friendly Rental Properties – Lets with Pets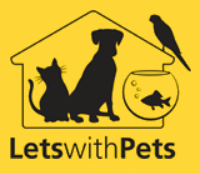 If you have ever had to rent a property with your pets you will know just how difficult it can be. Yet it is so important for pet owners to be able to find housing that will accept their pets. So many cats, dogs and other pets end up separated from their owners because they can't stay with them in rented properties or their owners have ended up homeless if they want to keep their pets with them.

Dogs Trust carried out an online survey of 5695 pet owners to find out more about their experiences of searching for pet-friendly rented accommodation.

The survey revealed that:
Pet owners can take up to seven times longer to rent a home compared to non pet-owners
1 in 3 pet owners could not find a suitable property
47% of pet owners who used a lettings agency found them to be 'unhelpful'
97% of pet owners said they would be more likely to use property websites if they had a search option for pet-friendly properties
The situation needed to change and Dogs Trust came up with a brilliant initiative called Lets with Pets, which was set up in 2009 in response to the number of dogs being brought into their rescue centres for rehoming due to housing problems.
The Lets with Pets scheme aims to make the process of privately renting with pets easier for tenants, landlords and letting agencies by providing practical tools and advice at each step of the letting process. The scheme encourages all letting agencies who are members of a professional body to sign up as a Lets with Pets supporter. A range of free resources and advertising is available to Lets with Pets supporters to help them successfully let their properties to pet owners.
On the
Lets with Pets
website pet owners, landlords and letting agents can find everything they need to know about privately renting with pets.
Landlords
Landlords, did you know that if you exclude pet owners from your properties you are missing out on a large chunk of the rental market as nearly half the population own a pet. By adopting a pet-friendly approach, you can easily increase demand for your property and attract long-term, responsible tenants.
Lets with Pets has lots of information and advice to guide Landlords through the process of renting property to tenants with pets. Also available is a host of free advice and resources to guide you through the process of letting and managing pet-friendly properties.
Worried about pet damage to your property? In May 2013 a specialist insurance policy became available through Endsleigh Insurance Brokers and Dogs Trust, to encourage more landlords to accept pets in their properties, making it easier for pet owners to rent with their pets.
Dogs Trust explained: "The insurance policy created by Endsleigh and Lets with Pets has been established due to overwhelming demand from Landlords who are eager to branch out and rent to pet owners, but want the reassurance of specialist buildings and contents insurance. Tellingly, a recent survey found that 88% of landlords said they would rent to pet owners if there was an insurance product available covering pet damage."
Letting Agencies
Letting agencies who take a pet-friendly approach will increase their stake in the rental market as they attract more tenants looking for homes with their pets.
Dogs Trust is asking letting agencies to join the Lets with Pets scheme to encourage more landlords to accept tenants with pets.
Letting agencies with pet-friendly properties on their books can join the Lets with Pets scheme and benefit not only from the increase income accepting pets will generate but will also be entitled to free advertising on the Lets with Pets homepage and in the Find a Pet-Friendly Letting Agency section of the website plus free resources, free press releases and support via the scheme.
Rightmove introduced a 'Pets Considered' sticker on their website. Lettings Agents use the sticker to promote their pet-friendly properties and the sticker also makes it easier for pet owners to find properties where the landlord would consider letting to a pet owner.
Pet Owners
Finding privately rented accommodation that allows pets can be very difficult. Many pet owners are forced to live in unsuitable properties or keep their pets without consent from their landlord. Some owners are even having to give up their pets or else face becoming homeless.
You can find a pet-friendly property near you by using the online search facility
Find a pet friendly property
.
For more information on the Lets with Pets and Endsleigh Pet Insurance Policy, go to:
endsleigh.co.uk/letswithpets
or contact
letswithpets@endsleigh.co.uk
For further information and advice about the Lets with Pets scheme, please visit
letswithpets.org.uk