Pet Oxygen Masks for UK Fire Service
Not-for-profit organisation Smokey Paws are hoping to raise £90k to provide every fire engine in the UK with pet oxygen masks. These masks save the lives of over 22,000 animals every year in the USA and are needed in the UK.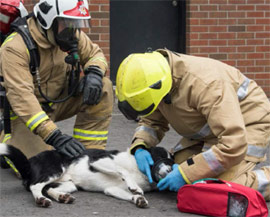 So far, in just 3 years, not-for-profit organisation Smokey Paws has donated over 2,000 sets of masks to UK fire services, helping to save countless lives, but there are still over 900 fire engines across the country that desperately need a set of masks.
By launching a GoFundMe page and a new website, Smokey Paws are hoping to raise £90,000 and attract regular donations through their #PawsForBreath campaign, to fund the purchase of the additional oxygen mask sets required, and help maintain those already in service.
Masks designed for humans are not the correct shape. The animal masks have a conical shape to fit over the snout. When using a mask designed for a human, animals receive about 10-15% of the oxygen, whereas the animal masks give the animal 85-90% oxygen, so they are much more effective. The masks give pets the best chance of survival in a house fire or road traffic accident.
They can be used on a wide variety of animals including dogs, cats, guinea pigs, puppies, kittens, sheep, ponies and hamsters. The masks can be reused so they will continue to save pets and animals for years to come.
Co-founder Brian Lockyer says: "It is thanks to the first responders that animals are given the best chance of survival, but they must have the right equipment to be able to give animals that second chance. It is a fact that Pet Oxygen Masks save animals and pets. The mission of Smokey Paws is to get a set of Pet Oxygen Masks on every fire appliance in the UK with the help of you, the sponsors, donators and followers.
How to donate
Donate via the GoFundMe page or via the Smokey Paws website.