Pets Allowed in Rented Properties
The government's Renters Reform Bill has been announced and it will give all tenants the legal right to have their pets living with them in rented properties. Housing landlords will no longer be able to unreasonably refuse renters with pets.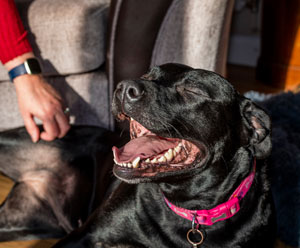 Until now, renters with four-legged friends or other pets have struggled to find a property to rent as landlords could legally say "No pets allowed". Figures from Zoopla found that only 7% of landlords listed their properties as suitable for pets in 2021, leaving a lot of dog, cat and animals lovers literally out in the cold.
The new Bill means landlords will no longer be able to impose pet restrictions. For renting animal lovers this is great news. For landlords, it is likely to be a contentious issue as many claim that pets increase maintenance costs which they can't recoup due to deposit caps. Michael Gove's solution appears to be that landlords can request that tenants with pets have insurance that would cover any additional maintenance costs or damage caused by their pets.
On the other hand, with a massive increase in pet ownership over the last couple of years, many renters do have pets so landlords may have been forced to rethink "no pet" policies anyway to survive. Earlier this year Battersea published a report which highlighted the imbalance between the number of pet friendly rentals available compared to the number of renters with or considering to get a pet.
Battersea welcome proposals that could see more people able to enjoy the benefits of pet ownership.
"We have long campaigned for more people to have the opportunity to enjoy the many physical, mental and social benefits of pet ownership through our Pet Friendly Properties campaign. Sadly one of the most common reasons people bring their pets to Battersea is because they have been unable to find a home where their pet is allowed."
One thing that isn't clear at the moment is how the new Bill will apply to shared housing or properties without a garden. We see another potential issue with the wording that landlords can't "unreasonably" refuse renters with pets. What exactly will count as reasonable or unreasonable, we wonder? This could potentially be used as a loophole if not made clearer.
The government's Fairer private rented sector white paper covers many improvements to the rights and conditions of millions of renters, and covers much more than pet ownership. For more information visit New deal for private renters 16 June 2022.
What do you think? Let us know in the comments below.