Price Reductions - Designer Dog Collars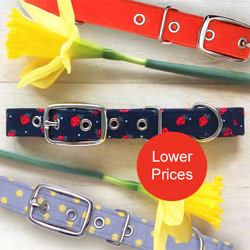 Massive price reductions on all our designer dog collars by Jolie Dog.
So many fabulous designs and we love the traditional metal buckles - all now at a pocket-pleasing price.
Choose from traditional houndstooth, nautical anchors, Breton or summer stripes, retro dots, lush strawberries, black and white print or striking zig zag.
5 sizes available from X Small to X large and a choice of 2 collar widths.
Each fabric collar features a metal D-ring, traditional metal buckle and has an internal polyester webbing core for strength.
All lovingly UK handmade to order.
The Designs
Perfect for dogs who love to strut their stuff or something that little bit different.
To view the full range of dog collars, visit Collars & Leads.