Pup Aid
The UK's biggest anti-puppy farming event is back. Pup Aid is a celebrity judged fun dog show and day out that aims to raise awareness of the horrific practice of puppy farming.
"Join us and be part of the fight against puppy farming."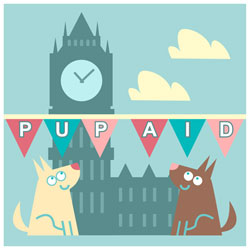 Pup Aid will once again be in the leafy doggy paradise of north London's Primrose Hill, part of The Royal Parks, and promises a jam-packed day of fun for all the family and our faithful four-legged friends with trade stalls, delicious fresh food, music and Scruffs heats judged by some famous faces.
But more importantly it's about saving lives, dog and puppy lives to be exact. With enough awareness about the cruel farming trade, Pup Aid, which is backed by many celebrity names, hopes to make a difference and put an end to the barbaric puppy farming practice once and for all.
Saturday 2nd September 2017
Primrose Hill Park (just off Regents Park Road), North London
Puppy farming is the mass commercial production of puppies purely for profit and without a thought for the welfare or happiness of the pup, breeding bitch or stud dogs.
This very special day will once again give you, the dog-loving public, the golden opportunity to help raise awareness about the UK's cruel puppy farming trade by attending this amazing celebrity judged fun dog show.
How can I help?
It is really fantastic that you want to get involved with Pup Aid, helping to raise awareness of puppy farming. There are various ways you can help with the event including spreading the word and attending.
"Raising money for the charities we support and raising awareness of puppy farming is what Pup Aid is all about so it is important we get as many people through the door as possible. If you are willing to help out on the day we will be looking for people to help with jobs such as raffle ticket sales and marshalling people through the door. We had over 1,000 people attend last year and we are hoping this year will be even bigger."
If you would like to volunteer or are a business that would like to get involved, visit the Pup Aid How Can I help? page.
Organiser Marc Abraham (Marc The Vet) says "In order to stop puppy farming we must simply stop the demand. By raising awareness through events like Pup Aid and promoting rescue dog adoption and responsible breeding practices it has to end eventually."
For more information about the event, attending the event and the cruel puppy farming trade visit www.pupaid.org