Pup Up Cafe Events
Pup Up Cafe events are a great way for dogs and humans to get together. A cafe full of your favourite doggos - what more could you want, right!
Pup Up Cafe™ host a number of pop up doggy based events across the UK from breed specific days to open to all doggy days and everything in between.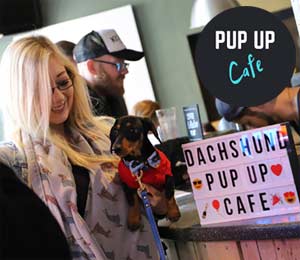 Marcus and Chloe had the idea when they were looking for ways to combine their love of dogs with event hosting. Their first event in Exeter was a sell out, with over 200 Dachshunds attending throughout the day and lots of Dachshund fans living their version of heaven.
Pup Up Cafe Days
For people who love dogs and cafes, lol. The perfect way for everyone to get social in a relaxed and fun way. They organise the events and you simply show up with your ticket a have a wonderful doggy day. Many of the events have competitions such as best dressed, most well behaved and best photo of the day.
Breed specific days
It's all well and good having all kinds of dogs around but when you start mixing St. Bernard's with Miniature Dachshunds, some things just don't go to plan. These breed specific events are a great way to meet fellow owners, have a friendly coffee and chat about all things training, personality, breeding and everything in between. Woof!
Have a look at what most Pup Up Cafe's consist of
Mingle with many furry friends and their owners
Free puppuccinos for all
Hand wrapped dog treat on entry to make friends with
Photographer taking photos
Competitions including best dressed pup, best behaved pup and more
Related trade stands and goodies on offer
Upcoming events are Dachshund Pup Up Cafes across the country.
See you there!
Visit their webpage https://www.pupup.cafe/ or Facebook page https://www.facebook.com/pg/PupUpCafe/ to find out more.