Puppy Contract and Puppy Information Pack
How puppies are bred and raised has lifelong effects on the puppies and their new owners. Good breeding and care can help ensure puppies have happy and healthy lives. Irresponsible breeding and poor care can cause health and behavioural problems in puppies and stress and expense for owners.



The RSPCA and the BVA Animal Welfare Foundation have launched a new Puppy Information Pack (PIP) and contract to help educate and protect puppy buyers.

For breeders and sellers the contract is a record of the thought and attention they have devoted to their puppies' breeding and care. The puppy contract has been developed to empower puppy buyers and help them to avoid the problems that can arise from buying a puppy from an irresponsible breeder.

- Endorsed by other respected animal welfare organisations*, the PIP and contract will help anyone buying a dog make an informed choice.

- The PIP and contract can be used by anybody thinking about buying any puppy, and by any breeder wanting to demonstrate the care and attention they've devoted to their puppies' upbringing.

- The breeder or seller of the dog fills in the PIP with information about the puppy and the puppy's parents before he or she is sold. This includes information about the health of the puppy and its parents and the experiences the puppy has had to prepare it for life in its new home.

- The contract is then signed by the breeder to say that all of the information they have given in the PIP is true. The buyer then signs to say they understand the information they've received and that they intend to meet the puppy's future health and welfare needs.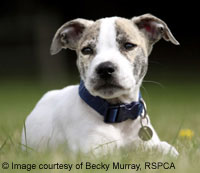 "The concept of a standard puppy sales contract was identified in three major reports on dog breeding as a key tool. They said it would improve dog welfare as it would allow the public to make properly informed decisions when buying a puppy."

"So we've created an industry standard puppy contract and information pack that empowers the ordinary puppy buyer and allows them to demand puppies that are happy and healthy and suitable for their intended lifestyle."

Thinking about buying or selling a puppy?

Download a copy of the contract before you start your search and ask your chosen breeder if they use it.

More information and a downloadable copy of the PIP and contract is available from: www.puppycontract.org.uk

* Advisory Council on the Welfare Issues of Dog Breeding, British Veterinary Association (BVA), Companion Animal Welfare Council (CAWC), Dogs Trust, PDSA, Universities Federation for Animal Welfare (UFAW).