The Puppy Socialisation Plan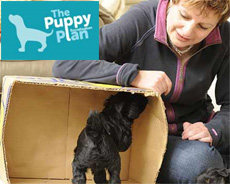 Almost one in five dog owners admit that they are never or rarely in control of their dogs when out on a walk and half claim to be embarrassed by their dog's behaviour in public, according to research from Dogs Trust and the Kennel Club.
The Puppy Socialisation Plan has been launched to help get Britain's dogs back on track! This unique new initiative for dog breeders and owners is a step-by-step, simple but comprehensive socialisation plan that aims to give every puppy the very best start in life, preventing behavioural problems later on.
The research shows that puppies who weren't properly socialised and introduced positively to new situations in the earliest months of their life are the most likely to give their owners trouble. With 12% of dogs being given away due to easily avoidable behaviour problems, urgent action needs to be taken to give dogs a better start in life.
Common problems that owners face on a frequent basis include:
jumping at people (29%)
being anxious of being left alone (26%)
being scared of people with facial hair (18%)
being fearful of household appliances (13%)
A further 55% say that their dogs have been known to show antisocial behaviour (such as barking, growling, snapping or biting) towards other dogs, and 35% show antisocial behaviour towards people. On many occasions these antisocial tendencies are driven by anxiety or fear, with dogs that were poorly socialised as pups being more likely to show anxiety around new people, other dogs and new household noises.
The research showed that dogs who were well-socialised and had positive experiences of other dogs, children, a range of people and noises in the home and outside of it, are significantly more likely to be well-mannered and confident adult dogs.
Carolyn Menteith, a Kennel Club Accredited Instructor who developed the plan, said: "The first four months of a pups' life are when a puppy is developing his soft skills - in other words his social behaviours and how he responds to new and novel things. Failure to expose them to a wide range of different experiences in this early period means that they often struggle to deal with new situations later on. A lot of the problems that we see in dogs, from aggression to all the behaviours that arise through fear such as noise phobias and separation issues - as well as poor learning skills and many training problems - can be prevented if they are taught lots of new experiences from the very beginning."
What is puppy socialisation?
The Kennel Club website explains: "Like human children, puppies are not born with the social skills that they require to live with their family, be that a canine family or a human one. The term "socialisation" in simple terms means the learning process that a puppy must undergo in order to learn key life skills to ensure that it is happy and confident in its environment, and can communicate effectively within its social group."
The Puppy Socialisation Plan
To help tackle the problem of poor socialisation, the Kennel Club and Dogs Trust have launched the first ever step-by-step Puppy Socialisation Plan for breeders, rehoming centres and then new owners to follow.
The plan lays out steps that will build puppies' confidence around everything from household appliances and traffic noises, to new ground surfaces, and a range of people, from those with hats and beards, to children. The breeder or rescue home will work through the first eight weeks, recording each step through a series of diary entries, photos or videos and this is then passed onto the new owner to continue.
Clarissa Baldwin, Dogs Trust Chief Executive, said: "Dogs are expected to fit into many different family units which could include any combination of adults, children, dogs, cats and much more. They will have to accept the often loud and unpredictable sounds of their new homes; they will have to learn to be left alone when we can't take them out; they need to learn not to herd children, chase the cat, knock over granny, steal the Sunday dinner, or threaten the postman, or anyone else! It's up to us, as their carers, to provide them with the early groundwork in order to cope with all the varieties of life."
To find out more or register, visit [removed by Admin]. It looks like this has now gone from the Dogs Trust website. Visit their new link Introducing your puppy to the world around them for advice.