Put Pet Welfare On The National Curriculum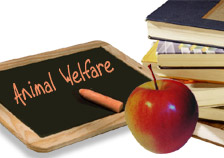 The government is reviewing the national curriculum for England and Blue Cross need your help now to make sure that children are taught what pets need to be happy and healthy.

Blue Cross ask: "Please contact your MP and ask them to help ensure that the five basic needs of animals, as set out in the Animal Welfare Act 2006, are included in the curriculum for primary school children. Children are the pet owners of the future, so teaching them to care for and respect pets from an early age is essential if we're to make a positive change to animal welfare."

Problems of neglect, cruelty and abandonment often happen because people don't understand what a pet needs, how to care for them and how much it will cost.

The draft curriculum for primary schools is currently out for consultation and Blue Cross has teamed up with a number of other charities to urge the government to include reference to animal welfare needs.

The consultation closes on Tuesday 16th April 2013, so please contact your MP today.

To make it as easy for you as possible, Blue Cross have drafted a letter to get you started. Letters which are more personal have a lot more impact with MPs so please do use the letter as a template but use your words and opinions to make it your own.

What to do
Visit The Blue Cross website to download the draft letter, make it your own and then use the link provided on that page to email the letter to your MP. Please also spread the word to as many people as possible.