Red Dingo Collars, Leads & Harnesses
Let's look at why Red Dingo pet accessories are so special and why we have been championing this amazing pet brand since we began our doggie journey.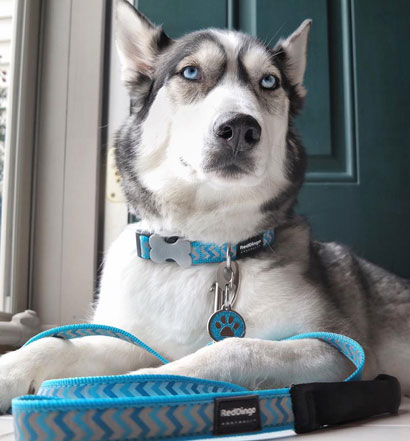 Red Dingo are an Australian brand, established in 2004. This renowned pet accessories brand is known and respected world-wide for its durability, style and affordability. With Red Dingo your pet is getting a collar, lead or harness that is reliable, safe, comfortable and very stylish.
Let's take a look at why Red Dingo products are so special.
Why Red Dingo?
Firstly all Red Dingo products are made with premium nylon webbing, solid stainless steel D-rings and the trademarked buckle bone side release buckle. They will never let you down and will last for years. From walks in the park to beach days out and even salty sea swims, Red Dingo collars, leads and harnesses won't rot, fade or rust. How do we know? We know because we have been using them on our own dogs and selling them too since the brand began over 16 years ago.
Other brands may be a few quid cheaper but they won't last like Red Dingo.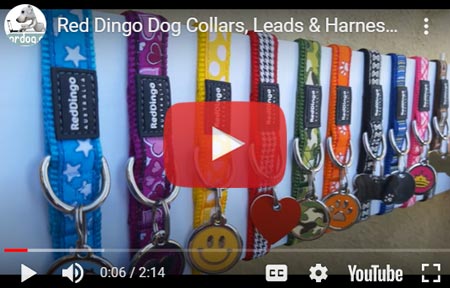 The collars and harnesses are fully adjustable to fit any size of dog and even growing pups. As your dog grows, your Red Dingo collar or harness can be adjusted to fit.
The webbing and fabrics used are durable but because they are of such a high quality, they are soft and comfortable against your dog's neck and body, with no rough or harsh parts or edges that could cause irritation or discomfort.
The famous Bucklebone clip is a signature feature of the Red Dingo brand. The patented design is very secure, it won't let you or your dog down and it is easy to fasten and unfasten.
As mentioned, all the hardware is rust-proof and the webbing and fabric colours are also fade-proof. Red Dingo collars, leads and harnesses are also machine washable. They come up like new.
Hard wearing
No rust, rot or fade
Machine washable
Stunning colours and designs
Comfortable
Fully adjustable
There is a great range of colours and designs to suit everyone. A couple of the designs also include a reflective element actually in the pattern so your dog can be seen and safe in low light conditions during early morning or late evening walks.
The standard dog harnesses are just part of the Red Dingo range. A newer addition to the pack is their padded dog harness with double D-ring for training and extra control of your dog on walks. Perfect if your dog is enthusiastic on lead, lol.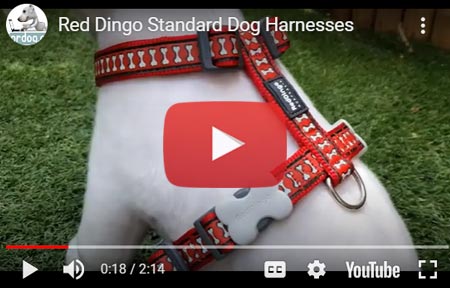 The classic 'Y' shape of all Red Dingo harnesses is the perfect shape to avoid muscle and skeletal problems. This Y-shaped design doesn't impede your dog's chest or shoulders as they move. A good, healthy dog harness is Y-shaped (when looking at it from the front when the dog is wearing it). This design keeps the dog's shoulder joints free from restriction, ensuring a natural and free range of movement for their muscles and joints.
To find out more about the Red Dingo range, visit Red Dingo Collars, Leads and Harnesses.