Rescue Dog Wedding Favours
If you are planning your wedding day, why not do something extra special for rescue dogs. We love this new idea from Dogs Trust. It is a fun and easy way to make a donation to their dogs on behalf of all of your guests.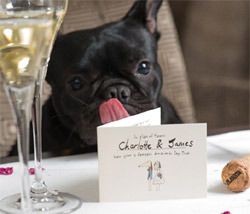 These unique and beautifully designed Dogs Trust keepsakes are a fantastic alternative to traditional wedding favours. And as you and your guests celebrate your special day, you will be helping over 17,000 homeless dogs in Dogs Trust's care.
Your guests can take away exclusively designed doggy table cards, knowing that their attendance also helped to provide bedding, toys, medical treatment and behaviour training for the dogs in the rescue homes.
Choose from 4 great card themes:
Bride and Groom
Confetti dogs
Bride and Bride
Groom and Groom
To find out more, request your wedding favours and give a special gift to the dogs of Dogs Trust on your big day, visit https://www.dogstrust.org.uk/get-involved/wedding-favours/