Rescue of Dog from Badger Sett
This dramatic press release and footage from the RSPCA shows the rescue of a rather adventurous dog who got stuck in a badger sett while on a walk. Arlo the Lakeland terrier was rescued after being trapped for a fraught 48 hours.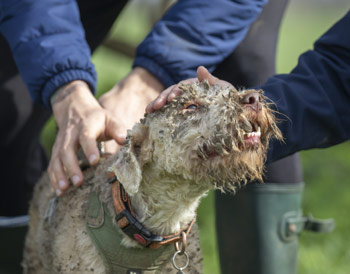 Arlo was out for his daily exercise in a field in Kingsbury Episcopi, Somerset, when he got stuck in the active badger sett. This sent his carers, who were dog-sitting him, into a panic.
The sitters contacted the RSPCA. Animal rescue officer Dean Wilkins rushed to the scene but there was a setback, as it is illegal to damage active badger setts without a licence.
Dean said: "We had to apply for a licence to do so in the presence of an RSPCA wildlife officer. This meant a lengthy delay before we could start digging."
However, the rescue attempt was not so easy. The rescuers could not see or hear the dog.
"We needed help, so I called on the local fire and rescue service in Glastonbury. They arrived with a special camera to locate the dog, who was wedged 1.5m (4.9ft) down in the sett." Dean explained.
Finally, more than two days after he vanished, Arlo was brought to safety.
In the video footage below you can see the moment Arlo finally emerged into daylight after two days down the badger sett.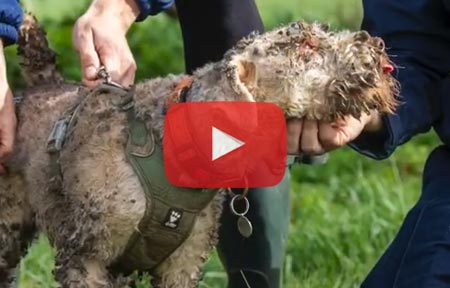 Arlo is now back at home and no worse for his adventure and his carers have thanked the RSPCA and fire and rescue, but there is a word of caution:
Dean said: "This incident is a reminder that it's always a good idea to keep your dog on a lead if you see signs of badger setts around."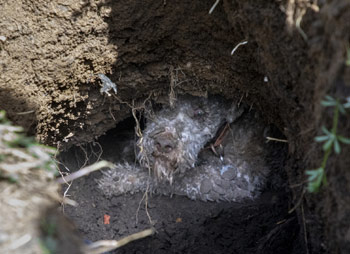 To help the RSPCA continue rescuing, rehabilitating and rehoming animals in need of care please visit Help RSPCA be there for more animals.
By Jenny Prevel
© D for Dog www.dfordog.co.uk
This article belongs strictly to D for Dog and we do not authorise the copying of all or any part of it.