For Pets Sake Restrict Fireworks
You may have heard recently about a petition asking for the use of fireworks to be restricted for the sake of animals and pets.
Many of us know the pure confusion and fear that fireworks can cause to animals, and fireworks are much more prevalent than just bonfire night and new year.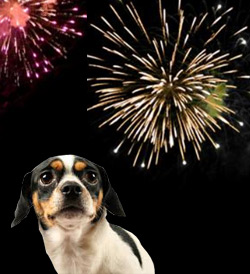 Campaign group FireworkABatement started the petition to call for fireworks use by the general public to be permitted on traditional celebration dates only.
"The need for reform of the Firework Regulations (2004) has been recognised by a number of organisations and charities. Current regulations are outdated and largely ineffective and we are calling for the improved regulation of fireworks use in the UK."
https://petition.parliament.uk/petitions/109702
The petition gained support from the RSPCA which asks for fireworks displays to be banned apart from on four special religious or cultural celebrations: 5th November, New Year's Eve, Chinese New Year and Diwali.
It is not just companion animals who are affected. Wild animals and farm animals can also be dreadfully frightened by the noise and lights of fireworks. With current restrictions of little use, many people want the regulations regarding fireworks to be tightened.
The RSPCA's campaign manager said "The RSPCA believes the Fireworks Act 2003 and the Fireworks Regulations 2004 don't go far enough. We want to see the government take advantage of this by strengthening the existing acts and restricting the use of fireworks to traditional dates of the year like Bonfire Night."
The petition, now closed, received 104,038 signatures and so will be debated in parliament on 6th June 2016. The government's response to the petition is:
"We are aware that fireworks can cause distress to animals. Restrictions on the general public's use of fireworks, and permitted noise levels, already exist and we have no plans to extend them."
I am not convinced there is much hope for change any time soon. For now all we can do is try to help our pets to cope as best as possible. You may find our article Dog Fireworks Fear and Surviving Bonfire Night useful.
By Jenny Prevel
© D for Dog www.dfordog.co.uk
This article belongs strictly to D for Dog and we do not authorise the copying of all or any part of it.