Please Retire Ex-Laboratory Dogs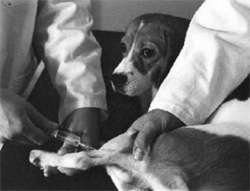 I read about the non-profit organisation Unite to CARE (Cease Animal Research Experiments) in Dogs Today magazine recently. It was founded by Victoria Fraser in February 2013 following the news that 300 dogs were being flown from Sweden to Macclesfield to be used in research laboratories.
Since then the campaign has been extended to include every research facility in the UK to set up a retirement programme, as has been done very successfully in the USA by The Beagle Freedom Project.
Their main aim is to negotiate the release of any surplus dogs from laboratories across the UK by offering a viable alternative to euthanasia when research companies have ex laboratory or breeding dogs that are no longer of use to them. The offered alternative would be to find loving forever homes for any laboratory dogs that are no longer of any commercial value.
They are also peacefully campaigning for an end to all animal testing. They explain: "We aim to promote change in current legislation to get animal research replaced with modern more reliable research that does not involve the suffering of any animal and does not risk the public's health."
Unite to CARE have started an HM Government e-petition requesting the compulsory retirement of ex laboratory dogs to approved homes at the end of their commercial life instead of unnecessary euthanasia.
"Provisions for this to occur were made in the Animals Scientific Procedures Act 1986 with a clear policy for re homing, however this has never been introduced and was on a voluntary basis. This should be replaced with a mandatory obligation to retire the dogs once they have finished being of value to the researcher society."
The petition insists that the pharmaceutical industry and universities adhere to the 3R's, which are stipulated when any animal testing licence is issued.
The 3R's stand for:
Replacement
Refinement
Reduction
This means they must ensure that the animals suffer as little as possible as well as replace and reduce the use of animals wherever possible. "An important way they can adhere to the 3R's and therefore show they are following this legislation is by allowing us to re-home any animal that is of no further commercial use to them" say Unite to CARE.
The e-petition can be signed online at http://epetitions.direct.gov.uk/petitions/48694
Twelve Dogs Die Every Day in UK Labs
These poor souls have only ever known fear and loneliness. They've never felt the grass under their feet, splashed about in the sea or snuggled up with their special humans.