Rise in Dog Theft
More than 5,000 dogs have been reported to the police as stolen in England and Wales since the start of 2013, a BBC investigation has found. This is a rise of 22.3% in two years.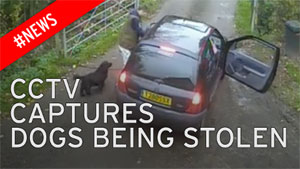 Reported dog theft stats are:
1,490 in 2013
1,599 in 2014
1,776 in 2015
423 in the first 4 months of 2016
The investigation also suggests that the most 'desired' breeds by thieves and therefore most likely to be targeted are Staffordshire Bull Terriers and small/toy 'designer' breeds like French Bulldogs and Pugs.
Conservative MP Gareth Johnson has called for a specific crime of pet theft to be introduced. He wants the government to recognise the effect dog theft can have on owners, stating that stealing a dog is "currently deemed no more serious than stealing other possessions".
However, the Ministry of Justice said: "We are aware of the distress the disappearance of a pet can cause, especially if there are suspicions it has been stolen. The maximum penalty for theft is seven years imprisonment and there are no plans to change this".
Source: bbc.com/news/uk-england-36590425
If your dog gets lost or is stolen, there are some things you can do. Our article Lost Dog - Things You Can Do includes advice on prevention and finding your lost dog.