Big Walkies 2016
RSPCA Big Walkies is back and bigger than ever!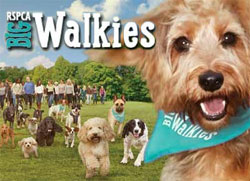 Big Walkies is the biggest series of dog walking events in England and Wales. RSPCA run these events to protect more animals and help them find loving new homes. Last year Big Walkies raised over £100,000 and this year, with the help of you and your doggie pals, they hope to raise even more.
Starting in May 2016 with four huge events in South London, North London, Cardiff and Bournemouth. Then look out for over 40 events across England and Wales in September and October.
South London - Saturday 14th May, Crystal Palace Park
Cardiff - Sunday 15th May, Bute Park
Bournemouth - Saturday 21st May, West Cliff Gardens
North London - Sunday 22nd May, Alexandra Palace
Plus more walks later in the year
All dog lovers and their dogs are welcome, from playful puppies to golden oldies. You can complete a short or longer route - it's up to you.
You can register with or without a dog for just £10. Additional pooch pals cost £5 each and you can bring up to four dogs with each registration. If you're coming along with a group of friends why not register as a team. You can invite as many people and pooches as you want and walk together!
What are you waiting for? Find out more or sign up now RSPCA Fundraise for animals
If you don't have a dog but still want to take part, you can volunteer.