RSPCA Leaps & Bounds Appeal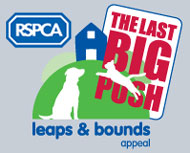 The RSPCA's 'Leaps & Bounds appeal' aims to raise money for a new flagship Animal Hospital and Centre at Newbrook Farm, Birmingham. This new state-of-the-art centre will replace the old Barnes Hill site, that is struggling to cope with the increasing demands placed on it by the horrendous mistreatment of animals, in particular dogs and cats.

The RSPCA are having one last big push to raise the final £600k needed for the 'Leaps and Bounds' appeal to complete the centre. You can donate or take part in a fundraising event.

Whatever you can give will be put to work to help the new Newbrook Farm Animal Welfare Centre save, protect and care for animals who have suffered neglect and cruelty.

"Our amazing new centre is almost finished – we are just a few months away from opening the doors. Before that happens we urgently need to raise the final £600,000 to complete the final building phase."

"So many people have been so generous in getting us this far. We needed to raise £1.6 million to build the Centre and £1 million has come flooding in. We are so grateful for every penny. Now we need your help for the last big push for funding before the doors to the new centre open in October."

From bring and buy sales to bake-offs, frock swaps to sponsored walks, it's easy to register your interest to take part in any one of the RSPCA leaps & bounds events in your area. Please visit [this link has expired]

Every penny you donate to the appeal will help guarantee the new centre is fully operational this autumn, and the staff will have the very best opportunity of giving sick, traumatised or abandoned animals the chance of a secure, healthy life. If you donate, please don't forget to increase your gift by an extra 25p for every £1 you donate by ticking the Gift Aid box.

To donate please visit [this link has expired]

How your gift could help
£15 could help build a cat pod
£50 could help build a dog kennel
£1000 could help complete an operating theatre

The RSPCA urgently need your help to finish this world-class centre of excellence that will rescue, rehabilitate and rehome thousands more animals every year. It's a big task but there's an even bigger need. The RSPCA's new Newbrook Farm Animal Welfare Centre will move animal welfare forward in leaps and bounds. For the first time in England & Wales, lost, hurt, abandoned and traumatised animals will have everything they need under one roof - from rescue and treatment through to rehabilitation and re-homing.