Run a Fun Dog Show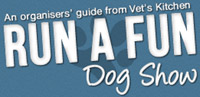 Planning to visit or run a fun dog show this summer? Get the complete 'How To' for these unique and very British occasions, courtesy of TV Vet Joe Inglis.

As Diamond Jubilee and Olympic fever sweeps the nation this summer it seems likely that few of us will be travelling abroad, especially with so many teams of volunteers organising local celebrations and events around the country.

As a dog-loving nation, it's also likely that many village and town fetes will be running dedicated fun dog shows within their own activities, or even creating a special Fun Dog Show event. Sarah Wright, editor of Your Dog magazine, says: "Now the better weather's here, a fun dog show is a really great way to spend a family day out with your dog. It's great for socialising him, getting your kids out into the fresh air, and, as an added bonus, there's the chance to win a few rosettes! And if you're keen to raise funds for your favourite charity, running your own fun dog show is a great way to do it. That's what the new web pages on the Your Dog website, produced by Joe Inglis and the Vet's Kitchen team, are all about – helping you to make a success of your day, with hints, tips, and a fabulous downloadable toolkit."

This quintessential British day out appears to be so easy to organise but "Be aware", says TV Vet Joe Inglis, "of a number of pitfalls. For example, make sure you have enough space and a supply of water and protection from inclement or very hot weather and don't forget to make sure your event is insured." In fact, last year, Joe was so concerned that he created a free community website for organisers. As a result over 3,000 dogs enjoyed a safe, well-organised, and fun day out with their owners around the country, with many of the events raising thousands of pounds for good causes. Joe added: "Running a fun dog show can be very worthwhile for all concerned, but it does require some logistical support. The website removes much of that hassle by allowing organisers to easily generate their own personalised entry tags, judging sheets, show programme, posters and winners' certificates."

This year, Your Dog Magazine has joined forces with Joe to bring even more benefits for fun dog show organisers who can now create (free of charge) their own dedicated fun dog show webpage to post information and upload videos and photographs before and after the great event. Competitive dog owners or people who simply want a fun day out with their dog can easily search for their local fun dog show by postcode or date; and everyone can get help with training and preparing their dogs for the great day by reading tips from canine behaviourist, Jez Rose and Your Dog's editor, Sarah Wright.

Joe said: "It's a great opportunity for everyone, from small communities running a village fete to raise funds for local causes, to the organiser of a big county show who want some fresh ideas for their visitors. By using the website, they can tell the world when and where it's taking place and visitors will be able to see a map of all the shows, dates and contact details to plan their day. More importantly, as I believe dogs should be treated as part of the family, this is a brilliant way to have a fun family day out with your pet."