Save the Staffy - Changing Public Perception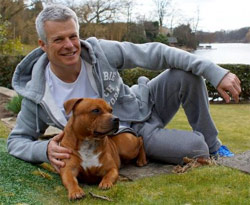 The Save the Staffy website has been set up by lawyer Nick Freeman to promote all that is good about the Staffordshire Bull Terrier.
"I have been a Staffy owner for just shy of two decades and I am genuinely passionate about the breed, as I am about dogs generally. My experience is that Staffys are the most loyal, loving and trustworthy of any breed known to man" says Nick.
The website aims to set the record straight about this fabulous dog. It features sections on the breed's history, caring for your Staffy, dogs and the law and other useful links.
"It is an indictment on the plight of the Staffy that I feel it is necessary to create this type of website. The dog has attracted negative media attention for many years and is commonly associated with gangland thugs and attacks on people and other animals. I feel to acquiesce is to do a massive disservice to this loyal animal and with new Government legislation currently being mooted and with talks of the Staffy being outlawed as a dangerous dog it is imperative to do something now" Nick explains.
Save the Staffy urges Staffy owners to use their Facebook page and Twitter @staffydefence to share your Staffy news, stories, photographs and videos. Their goal is to cause a massive shift in public perception, with your help and support.