Soothing Dog Sounds
Does your dog or cat get anxious when home alone? Soothing Dog Sounds make music to help your pet relax.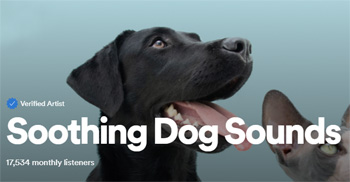 Soothing Dog Sounds is the brainchild of a 31 year old musician from Alabama and now living in Atlanta, Georgia. She loves smooth jazz and 70's rock, but sticks to instrumental music in her work. She has released a line of pet music albums including Soothing Dog Sounds Vol. 1-3 and Soothing Dog and Cat Sounds.
"I started Soothing Dog Sounds in 2014 because I felt so guilty leaving my Maltese at home alone and nothing seemed to calm him down. I was determined to find a natural way to help him and after some research Soothing Dog Sounds was born."
With 17,534 monthly Spotify listeners (as of 7th March 2023) it looks like she is doing something right.
You can listen on Spotify, Apple Music, Amazon and others. Visit Soothing Dog Sounds
If you fancy giving it a go or you already have, let us know in the comments.