Stop the Export of Greyhounds to China
The notorious Macau Canidrome in China, coined the world's deadliest dog track, is receiving thousands of innocent greyhounds by greyhound trainers, owners or breeders. The track does not operate a homing scheme and no greyhound leaves the track alive. Whether through injury, retirement or failing to place in their races, the dogs will be destroyed.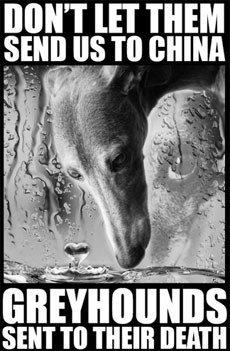 Previously, hundreds of dogs every year were imported to the Macau Canidrome from Australia. For many years, Australia was the main importer of greyhounds to Macau. However, after a lengthy campaign by animal rights activists, Australia banned the export of greyhounds to China in 2013. Now the victims are from Ireland.
Christina Hespe, campaigner for No Greyhound Exports, told The Irish Post that "The dogs that go to the Canidrome are second rate. They used to put them down, now they can sell them to China. It is a good way for breeders to get some money for nothing."
The Irish government is being lobbied in an attempt to prevent further dogs being sent to China. In 2012 the Irish Department of Agriculture issued a policy against racing dog exports to Asian countries. A petition 'Stop export of Irish greyhounds to China' aims to remind the Irish government that its anti-export policy should be enforced.
GREY2K USA Worldwide, who started the petition, are a global voice for greyhounds with a mission to end dog racing, pass greyhound protection laws and promote greyhound adoption. The campaign has attracted support from celebrity activists such as comedian Ricky Gervais and former Father Ted actress Pauline McLynn.
Sign here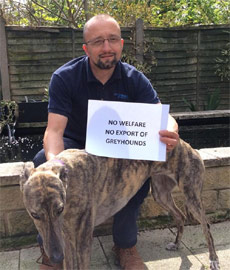 C.A.G.E.D North West explain: "These dogs suffer horrendous lives while bred for racing and no value is put on their lives 'other than money' as they are sent to countries that have no animal welfare laws to protect them from horrendous pain, suffering and death. Greyhounds, 'loyal, loving and once the most respected breed in history' are being sent to countries where they will be put to death 'possibly in ways more horrific than you could ever imagine', unless we act quickly to call an end to this barbarity."
Facebook groups are organising an international protest on 26th May. Set up to stop the exportation of Irish greyhounds to China, they are a broad international coalition of greyhound advocates from the racing and anti-racing communities as well as dozens of greyhound rescue, welfare and adoption groups.
Visit https://www.facebook.com/cagednw/
A Facebook group called 'No Welfare No Export of Greyhounds' is collecting photos that will be turned into an album against the export of Irish Greyhounds to countries with no welfare, including China. The album will be sent to the Irish Minister of Agriculture, asking that greyhounds not be exported to countries where there are no animal welfare laws.
Visit https://www.facebook.com/groups/1559526077682528/
If you have signed the petition, submitted your 'No Welfare No Export of Greyhounds' photo and still want to do more, visit the GREY2K USA Worldwide Take Action page to connect and share the cause.
By Jenny Prevel
© D for Dog www.dfordog.co.uk
This article belongs strictly to D for Dog and we do not authorise the copying of all or any part of it.