Summer Dog Ice Lolly Recipe
When the weather outside is hot, an ice lolly can be the perfect way to cool down - for both humans and dogs. We'll show you how to make your own dog ice lollies at home.
Battersea have come up with a scrumptious ice lolly recipe that is dog friendly, will help keep your pooch cool in the hot weather, and of course your dog will love them. Thanks Battersea. Big woofs!
Using natural ingredients, these ice lollies are not only a delicious way to help your dog keep their cool in the heat but they are a yummy and nutritious snack as well.
Rebecca MacIver, Rehoming and Welfare Manager, at Battersea said:
"Hot weather can be really uncomfortable for dogs and cats, so it's important that owners do a bit of forward planning on keeping their pets cool in higher temperatures. At Battersea we give our canine and feline residents a frozen treat on warmer days, as part of their regular healthy balanced diets, to help keep them as comfortable as possible. Making treats like these for your pet can be a great way to bond with them and is a fun activity for any member of the family!"
So let's get making some cool and delicious dog-friendly frozen treats.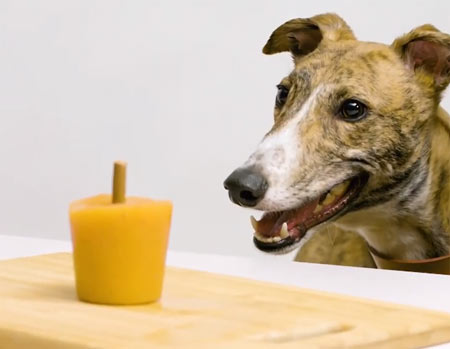 This dog ice lolly recipe makes about 5 lollies.
Ingredients
1 Apple
1 Carrot
300ml Water
Meaty treat stick (Stick-shaped edible dog treat)
Paper cups for a mould
Method
1) Slice the apple, making sure that the core and seeds are removed, and chop into small pieces.
2) Grate the carrot.
3) Measure out the water into a jug and tip in your apple and carrot. Blend with a hand blender until smooth.
4) Pour the mixture into small paper cups and place in the freezer for 1-2 hours or until they are partially frozen/set.
5) Once they are partially set, take them out and add a meaty stick-shaped treat to create the stick of the ice lolly. Place back in the freezer until completely set.
6) Remove the paper cup before giving the ice lolly to your dog.
You might want to have your dog eat their lolly outside in a shaded area, in their bowl or on a floor which you can easily clean, so it doesn't melt on your carpet.
Battersea says during hot weather please remember to keep pets in the shade, limit exercise, walk at cooler times of the day and provide your dog with plenty of water.
For more information on keeping dogs and cats cool in hot weather, please visit www.battersea.org.uk.
Other recipes for pet-friendly treats can be found on the Battersea YouTube channel.