Midsomer Murders TV Star Sykes Gets New Bowl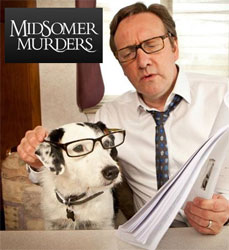 TV star and dog actor, Sykes the Jack Russell terrier, needed a personalised dog bowl for his role in ITV's Midsomer Murders.

Pinewood Studios contacted D for Dog and we were more than happy to speed his purchase through, ready for filming this week.

Sykes the dog has appeared in many TV commercials and hit movies including Sweeny Todd. He is probably most famous for playing Harvey the wonder-dog in a dogs home TV ad (every home needs a Harvey) and of course for being detective John Barnaby's companion in Midsomer Murders.

Pictured right you can see Sykes with co-star Neil Dudgeon who plays DCI John Barnaby.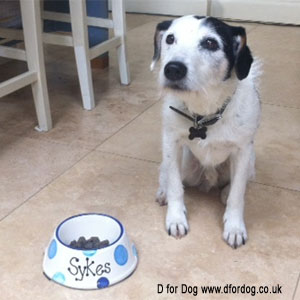 Sykes with his new personalised dog bowl from D for Dog, ready for filming ITV's Midsomer Murders on Tuesday 21st May 2013.