Talking Animals - Twas The Night Before Christmas
Thursday, 1 December 2016 | D for Dog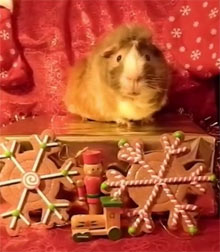 Those clever folk at Talking Animals always come up with wonderful Christmas videos. In this one the pets read us the classic "Twas The Night Before Christmas" poem before bursting into a fun rendition of "Jolly Old St. Nicholas".
Many animals from cats and dogs to a hamster, some fish, a horse and um... a crab (to name but a few) join in the fun.
Very festive and wonderfully cute and funny in equal measure. We love it.
Happy Christmas everyone.