Bravecto - Cause for Concern?
Back in 2015 a widely-shared Facebook post claimed that Bravecto chewable flea and tick remedy is fatal to dogs. A family who had adopted a dog from Pet Helpers asserted that the dog had died as a result of being given Bravecto chewables and that another of their dogs had also nearly died.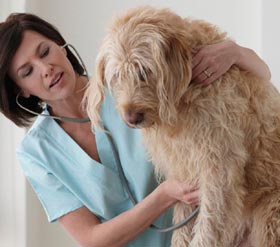 However, studies at the time suggested that Bravecto was safe. But that's not the end of the story. Following thousands of adverse reaction reports, Bravecto remains a potential cause for concern.
Let's start at the beginning.
As the warning spread on social media during 2015, it was picked up by the website Snopes, who attempt to confirm or quash various 'rumours'.
Investigating the claim, Snopes quoted a 2014 study published in the Parasites & Vectors journal where 32 beagles were treated with Bravecto (fluralaner) and no serious adverse side effects were attributed to the medication.
The full study can be found here.
Snopes also cited the "Freedom of Information Summary" 15th May 2014.
Finally, there was a post by Wilson Street Veterinary. Dr. Michael Mogavero stated that the drug had been extensively tested prior to its release and had proved safe for dogs - click here.
Snopes concluded that the Bravecto rumours were 'unproven'.
"The family of the depicted dog asserted that one of their pets had died within a day of being given Bravecto chewables and that another of their dogs had nearly died after being given the same treatment at the same time. The update also asserted that Bravecto chewables were responsible for the dog's death and that several other dogs had died of liver and kidney failure shortly after taking the same medication. (No information was provided showing or explaining a causal link between the dead dog and Bravecto chewables other than a post hoc ergo propter hoc assumption.)"
So who do we believe?
Of course, that Snopes article is dated now. Let's bear in mind that you can only write about what is known at that time. I can't help but wonder what their update might look like now, if they were to do one? Was that original anecdotal report by a dog owner only creating mass hysteria or worthy of proper consideration? If it was your dog and you strongly believed that a certain drug had harmed or even killed them, what would or should you do?
The evidence at that time seemed to suggest that Bravecto is safe. But that's not to say that, as with any drug, some dogs won't have a reaction. Also, with adverse reactions being reported, could real experiences from dog owners change this opinion?
The important thing to take from this is to always report any adverse reactions that you believe may be related to a drug taken by your dog. So let's take look at the ADE reports and then talk about how to report possible adverse reactions to drugs and medications.
The ADE database
The Center for Veterinary Medicine (CVM) maintains the CVM ADE database to monitor drugs after they have been approved. Any adverse effects not detected during pre-market testing can come to light. It is an official channel which can impact whether a drug stays on the market or not.
CVM's ADE reporting system depends on voluntary reporting of adverse clinical events by veterinarians and animal owners.
In November 2014 Elizabeth Carney, DVM investigated what, at the time, were two new FDA-approved products on the market that year for dogs - Nexgard (made by Merial) and Bravecto (made by Merck). To obtain more information about the safety of these two new drugs, Dr Carney submitted a Freedom of Information Act request to obtain the ADE reports.
November 2015 and the first set of reports were finally received. "Both reports contain information for the time period 1/1/2013 – 06/17/2015. For this time period, there were a total of 5,087 ADE reports received for afoxolaner (Nexgard) for dogs, and a total of 2,467 ADE reports received for fluralaner (Bravecto) for dogs."
In January 2016 Dr Carney posted an update with 06/18/15 - 01/06/16 data. For that time period there were 2,048 ADE reports for Nexgard and 2,852 ADE reports for Bravecto.
When comparing data, a great point to note was as follows: "Underreporting occurs with most adverse event reporting systems. The frequency of reporting for a given drug product varies over time, and may be greater when the drug is newly marketed, or when media publicity occurs."
Read Dr Carney's blog here, with links to the full ADE reports http://yourpetsneedthis.com/latest-greatest-flea-control-dogs/
An EMA (European Medicines Agency) 18 February 2016 public bulletin aimed at informing veterinarians and the public of the main outcome of post-marketing surveillance activities for veterinary medicinal products evaluated Bravecto as follows: "Monitoring is on-going since 2014 because of a relative high number of reports for this relatively new product."

Reporting adverse reactions
If your dog has an adverse reaction to medications, vaccinations or microchips, did you know you can report it? Did you know that reporting it is actually quick and easy and can be done online?
It is important that we all report any adverse reactions, so there will be a record should it happen again to another pet.
To find out more, please visit Reporting Adverse Reactions.
Reporting adverse reactions to Bravecto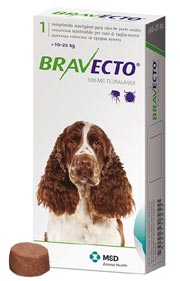 A Facebook group called Does Bravecto Kill Dogs? encourages dog owners to report any possible side effects their dog has experienced after taking Bravecto.
"It is very important that every adverse side effect be reported - even if it occurs once. You don't need proof of cause to report - only a suspicion that Bravecto caused the side effect. Take notes on any discussions you had including the names of the individuals you spoke with. This needs to be done if your dog is currently experiencing symptoms or had them in the past."
They explain that reporting reactions to Bravecto is a two step process.
1) Call Merck/MSD Animal Health. In some countries there is an option to email but calling is preferred. This link gives the phone numbers for MSD worldwide.
You should insist on getting a case number. If you can't get through to Merck/MSD, then proceed to step two.
2) File a report with the government agency responsible for oversight in your country. Click on this link for information on how to report in many countries:
Their page followers are also invited to share any adverse reactions they feel their dogs have suffered as a result of taking Bravecto. Of course, this should also be in addition to any official reporting of adverse reactions.
Update 22nd January 2017
- Thank you to a number of people who have commented here and on social media, giving me more information, which I have also included in this blog.
By Jenny Prevel
© D for Dog www.dfordog.co.uk
This article belongs strictly to D for Dog and we do not authorise the copying of all or any part of it.