Trick for a Treat Dog Challenge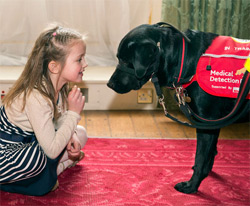 All dogs know at least one trick and now is the time to show the world by accepting this 1 minute 'Trick for a Treat' dog challenge in aid of Medical Detection Dogs.
The dog lovers at Barking Mad have thought up this fantastic way to raise money for Medical Detection Dogs. Simply upload a video of your dog doing a trick for a treat and donate to this great cause. Don't forget to also nominate a doggie pal to do their trick too.
This isn't a talent show. They are not looking for dogs who can ice skate to the Boléro or sing "I Dreamed a Dream". All dogs know one special trick or have a talent, whether it is howling at the TV, doing a high five, rolling over or playing dead. The dog loving British public can't get enough of seeing their furry friends special talents, even if they wouldn't make it beyond the first round in Britain's Got Talent.
Donations can be made by texting BARK49 £1 to 70070 or by following the JustGiving link https://www.justgiving.com/TrickForATreat/
You can view the Barking Mad Trick For A Treat Challenge YouTube channel here.
Do you accept this 1 minute 'Trick for a Treat' challenge in aid of Medical Detection Dogs? Show the world your dog's special talents and don't forget to nominate 2 or 3 doggie pals too. They have 24 hours to reciprocate. It is great fun and all for a good cause.
Here's how it works
Video your dog (or a friend's dog if you don't have one of your own), doing a Trick for a Treat
Upload the video to Facebook and post to your page and share with BarkingMadDogCare and on twitter with #TrickForATreat
Use the following wording on your post:
This is [Dog's name] #TrickForATreat challenge for @MedDetectDogs @Barking Mad Ltd. Text BARK49 £1 to 70070. [Dog's name] nominates [Friend's names]. You have 24 hours!
Donate £1 to the Trick for a Treat challenge
Hope you have fun!
Please remember to always be a responsible dog owner and make sure the dog involved is happy and safe when carrying out their challenge.
Medical Detection Dogs are a charity that works in partnership with researchers, NHS Trusts and Universities. Their aim is to train specialist dogs to detect the odour of human disease.
Dogs are renowned for their sense of smell. For centuries doctors have known diseases have characteristic odours which dogs may be able to detect. Cancer cells release small amounts of volatile substances. Cancer Detection Dogs are being trained to detect these volatiles. The hope is that this work and research will enable scientists to develop an early cancer screening system. Medical Alert Assistance Dogs are trained to assist individuals who manage complex medical conditions on a day to day basis. The dogs are taught to identify the odour changes that are associated with certain medical events.
To find out more, visit Medical Detection Dogs. The charity is wholly reliant on donations and receives no funding (registered charity in England and Wales no: 1124533 and in Scotland no: SC044434).