Trixie Needs a Home
Meet Trixie. This gorgeous little 8 month old Yorkshire Terrier was handed over to Dogs Trust. Her hair was so matted that her tail was stuck to her legs and she couldn't even wag it.
Her eyesight was also impaired due to a huge lump of matted hair above her left eye and she couldn't go to the toilet properly.
Now she has had a hair cut and her tail never stops wagging.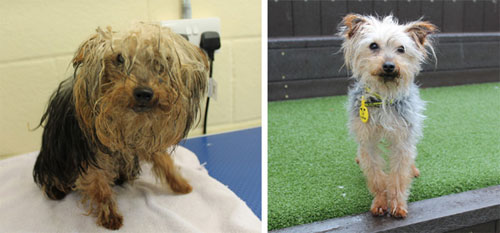 At just 2.1kg, an incredible 0.2kg of hair was carefully removed by Canine Carers at the Dogs Trust Denton Rehoming Centre.
She is a gorgeous, lively little thing who loves a cuddle. She has made lots of doggie friends and now she just needs to have the opportunity to build her confidence.
Dogs Trust are looking forward to finding her a wonderful family who she can happily spend the rest of her life with.
Trixie will thrive living at the heart of a loving family. She can live with children over the age of eleven.
Can you give Trixie a home?
If you think you could give beautiful Trixie the home she deserves, please call 0300 303 0292 or visit Dogs Trust Manchester, Parkway, Denton, Manchester M34 3SG.
The centre is open 12 noon-7.30pm during the week, but closed on Wednesdays, and it's open 10am-4pm at the weekends. Or go to https://www.dogstrust.org.uk