UK Police Dogs & Horses Now Protected by Law
UK police dogs and horses will be protected by law from today, 8th June 2019.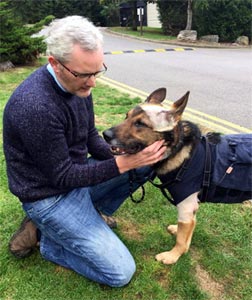 The Animal Welfare (Service Animals) Bill (aka Finn's Law) will prevent people who attack, injure or hurt a police dog or police horse from arguing that they acted in self-defence. The legislation will be coupled with plans to increase maximum sentences to five years in prison for animal cruelty offences.
Finn's Law is named after heroic German Shepherd police dog Finn who was stabbed in 2016 when he protected his handler, PC Dave Wardell, from a robbery suspect. Finn was stabbed in the chest and head but did not let go of the suspect until help arrived.
The assailant was charged with Actual Bodily Harm for wounding PC Wardell but only faced minor criminal damage charges regarding the brutal injuries he inflicted on Finn.
Since the attack PC Wardell has taken care Finn and campaigned for Finn's Law to come into place.
PC Wardell said "The last two-and-a-half years have been quite a journey of discovery for Finn and me. We decided that we just had to bring change to make sure our amazing service animals, including police dogs and horses, had protection in law."
According to the group which led the campaign for Finn's Law, more than 100 other service animals have been injured since 2012.
Environment Secretary Michael Gove said "This law is about giving our service animals the protection they deserve as they dedicate their lives to keeping us safe."
It wasn't thought that Finn would survive the attack but he did and is now enjoying his retirement.
If Finn and PC Wardell seem familiar, you may know them from this year's Britain's Got Talent where they reached the final with their mind-reading act.
To find out more about Finn, the new law and more, visit their website Finn's Law.