Volunteer In The New Year To Help Dog Charities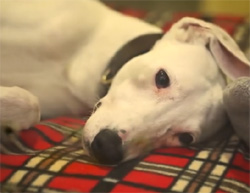 Volunteer work with animals can be very gratifying. It is a great way to help animals in need and also a great way to have contact with animals if you don't have a pet of your own. A great deal of the work at animal rescue homes and organisations depends upon the dedicated work of volunteers.
Volunteering can involve a number of things but the most common type of positions required are:
Dog Walker
The dog walkers will take usually one dog at a time for say a 30-45 minute walk. This provides the dogs with regular exercise and a well deserved change of scene. It is also an opportunity to broaden the dog's experiences of situations outside of the kennel environment. Walkers need a reasonable level of fitness as some of the dogs can be strong and are likely to pull on the lead.
Dog Socialiser
The aim is to get the dogs used to people and every day situations. Socialisation also helps the dogs to feel calmer and more able to cope with the extremely stressful kennel environment. Some dogs may be stroked or groomed while other dogs may be too stressed for physical contact and the socialiser will sit in the kennel and wait for the dog to gain confidence. The role requires patience and empathy plus experience and confidence.
Pre-Adoption Home Visitor
As part of the adoption process, most rehoming centres arrange a pre-adoption visit to the potential new home to meet the adopter, the adopters family and to gauge the living conditions and lifestyle. Home visitors need to visit new adopters as soon as possible once a dog has been selected for adoption. Good communication skills are essential. Volunteers need to be discreet in assessing the circumstances in which the dog is to be housed.
Fundraising/Events Volunteer
Help is often needed with regards to fundraising and organizing of shows and events, where the charity or organization may be promoting their work. The activities can involve manning stalls, selling raffle tickets, meeting and greeting and so on. These type of roles involve contact with the public. Flexibility and good communication skills are important.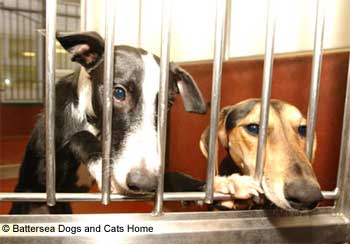 Battersea Dogs and Cats Home and Dogs Trust are two examples of rescue organisations always grateful for volunteers. Dogs Trust has been protecting dogs for over a century and is now the UK's largest charity dedicated to dog welfare. Battersea Dogs and Cats Home aim to rescue, reunite, rehabilitate, and rehome the lost and abandoned dogs and cats that come into their care.
Use the following links to find out more:
Dogs Trust - Volunteer
Battersea Dogs and Cats Home - Get Involved
Check for any age restrictions before applying. For example, Battersea Dogs and Cats Home point out the following:
"Our volunteers work largely unsupervised and many of our animals are strays with unknown backgrounds and temperaments, so we do not take on volunteers under the age of 16."
A certain level of experience is sometimes required but it is always worth contacting the charity you are interested in volunteering for to see if they have a volunteer position that would suit you.
"Volunteers play a valuable part in Dogs Trust's work and we will try to match your skills with the roles available" say Dogs Trust.
The Cinnamon Trust Urgently Need Volunteers
The Cinnamon Trust is a national charity for the elderly, the terminally ill and their pets. They often have urgent appeals for dog walkers and short term fosterers. They have an online map of urgent cases. If you see a marker in your area, click on it to see the details. If you think you can help then please contact The Cinnamon Trust directly. The page is updated weekly so if there isn't anything in your area now, there might be soon.
By Jenny Prevel
© D for Dog www.dfordog.co.uk
This article belongs strictly to D for Dog and we do not authorise the copying of all or any part of it.