Welcome To Our New & Improved Online Shop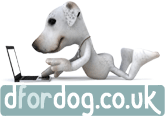 D for Dog celebrates it's 8th birthday this year and we felt it was high time we had a brand new updated look. So welcome to our new and improved online shop. The same great service and all the same great products but with a clean new look and improved functionality. We hope you enjoy it.
If you were registered with the old shop please register again as we have unfortunately not been able to transfer the old accounts across. This time we have even more reason for you to register. Customers who register to our new shop will receive Loyalty Points as they spend, which can be collected and used against future purchases.
Our new mascot, Deefer Dog, can be found on the right hand side of each page, so if you need help just click on him to chat if we are online, or it will send us a message if we are offline.
Enjoy!