Welsh Greyhound Racing Phase Out
In a "huge moment" for dog welfare, the RSPCA have announced that the Welsh Government is launching a consultation on phasing out greyhound racing in Wales, following the #CutTheChase campaign.
In Wales, no specific statutory regulation, licensing or laws exist governing greyhound racing - unlike in England. However, the RSPCA does not believe regulation would offer sufficient protection for greyhounds and this is why a phasing out of the sport was suggested as the best solution.
Greyhound racing endangers dogs to serious injuries and death in the name of sport, fun and profit. Over 2,000 greyhounds died and nearly 18,000 injuries were recorded from greyhound racing between 2018 and 2021. The true number of injuries is difficult to know though.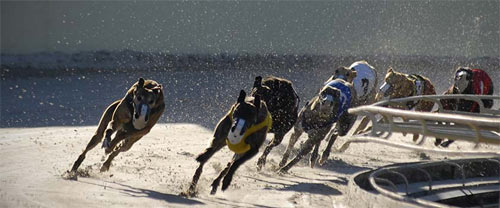 Dr Samantha Gaines, head of the RSPCA's companion animals department, said:
"As long as this sport is allowed to continue, dogs are needlessly put at risk of serious injury and death all in the name of entertainment."
The Minister for Rural Affairs, who is responsible for animal welfare in Wales, confirmed that she has responded to a Petitions Committee report which saw a majority of members back phasing out the 'sport' in Wales.
"The RSPCA now looks forward to working closely with the Welsh Government, and Members of the Senedd across the chamber to further highlight why we need a ban - and to ensure Wales takes a lead in the UK by phasing out greyhound racing, and protecting the welfare of the wonderful dogs currently put at risk by this dangerous sport."
You can view the report here P-06-1253 Ban greyhound racing in Wales (pdf)
Recommendations from the Committee supported by the Minister include "that Welsh Government action should include a phased ban on greyhound racing in Wales" which would result in the sport no longer taking place in the country.
Cut the Chase
The announcement follows campaigning on the issue of greyhound racing from the RSPCA, Hope Rescue, Blue Cross, Dogs Trust and Greyhound Rescue Wales, who are all part of the 'Cut the Chase' campaign. The hope is that England will follow suit.
Only ten countries in the world still allow commercial greyhound racing and those countries include England, Scotland, Wales and Ireland.
"Greyhound racing has no place in modern society. Suffering in the name of fun should not be tolerated. Sadly it is still legal and enjoyed at the bookmakers and by spectators" say RSPCA.
Around 6,000 greyhounds leave the licensed industry each year, with many needing to find new homes. This leaves animal charities and rescue organisations to pick up the pieces.
Find out more about the campaign here Cut the chase on Greyhound Racing.