Water Fun is better with a Dog Life Jacket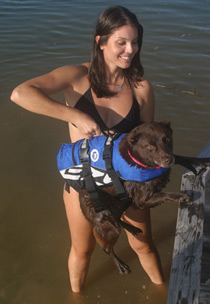 Nothing beats a bit of water fun. Whether you like swimming, surfing or going on boating holidays with your dog, we all love the sense of adventure that water sports, holidays and activities bring. But we also need to make sure that our dogs are safe. We put life jackets on the children but don't forget the dog.
Actually, dogs don't only need a life vest for safety reasons. Even if your dog can swim, and let's face it they call can, a good fitting, quality life jacket keeps them happy and secure. Older dogs or those with less stamina can continue to play and swim without tiring quickly. And all dogs love the feeling of floating with ease, with their head and body comfortably out of the water. Whether you are worried about them falling off the side of the boat or you simply want to give them that little bit of added safety and buoyancy, a dog life jacket is the answer.
We recently sold a life jacket to a lovely dog called Nellie, who lives in Malta. She has almost daily swims in the sea, lucky girl, and is a competent swimmer but she loves wearing her life vest. She can have endless games of fetch in the water. It has boosted her confidence in the water and extended her fun.
The EzyDog Dog Flotation Device (DFD) is our absolute favourite dog life jacket.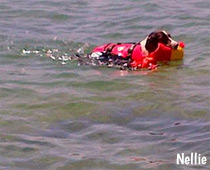 Available in red or yellow with reflective piping, they have high visibility. This is another major advantage of putting a life vest on your dog – they make your dog so much more visible in the water.
Another reason we love the EzyDog life jacket is its superior fit, adjustable straps and positioning of the ultra buoyancy foam so it is just where your dog needs it to be. Your dog won't feel like they are sinking or floating too high in the water. The design will keep your dog in a natural swimming position at all times. Perfect.
The final feature that is very useful is the handy grab handle on the back of these life jackets. If your dog has fallen into the drink, needs help getting back on the boat or out of the water or just needs to be lifted for whatever reason, the grab handle makes this comfortable and easy.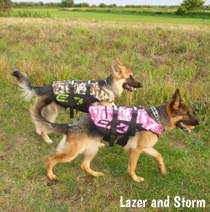 Mark Punter's dogs wore their life jackets during a week boating on the Norfolk Broads.
Mark said "The jacket is an excellent fit and fully adjustable." Mark also commented that "The reflective panels work well at night and in the water. The handle is ideal to hook the dog out with." We love Mark's photo of his two dogs, Lazer and Storm, wearing their life vests on holiday.
So as you can see, a good life jacket provides safety and comfort for all dogs and reassurance for you. Your dog's confidence in the water will increase which means more fun for them with fewer worries for you.
Happy water adventures to you all and your dogs.
View the range at Dog Life Jackets.
By Jenny Prevel
© D for Dog www.dfordog.co.uk
This article belongs strictly to D for Dog and we do not authorise the copying of all or any part of it.